Diaries are typically for keeping secrets or intimate thoughts safe. That's why they have locks. When I was a kid, I had a Snoopy diary with a little locking clasp on it. I wrote about girls I had crushes on in third grade. If that diary ever fell into the wrong hands, boy would I be red in the face. Come to think of it, I'm not sure when I last saw it …
Do people keep diaries anymore in the age of Facebook, YouTube and Twitter? Maybe some do. I still maintain an irregular journal the old fashioned way, handwritten in a cheap bound faux-leather volume. Venting on the page "for your eyes only" can be cathartic now and then, and far less destructive than if those thoughts were to end up on the Internet.
In the digital age, diaries have passwords and encryption keys. And as more and more people hold their lives in the palm of their hands, diaries are short squibs tapped out on touchscreens.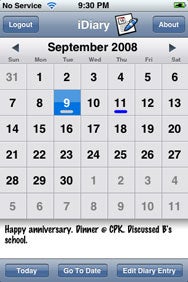 Enter iDiary, a marginally useful application for the iPhone and iPod touch. I stress "marginally" because it's difficult to imagine anyone using this app to maintain lengthy and intimate accounts of their daily lives. The world's fastest typist on an iPhone touchscreen would still be slower than a person writing longhand. What iDiary is, then, is a notepad with password protection.
If that's what you need, iDiary does the job well. When you run iDiary for the first time, you are prompted to enter a password. Don't lose it. iDiary employs Blowfish and MD5 encryption. Try to alter the diary without authorization, and iDiary will display a terrifying message: "Corrupted data."
iDiary functions as a day planner. The calendar-interface is easy to navigate. In monthly view, a blue underline appears below each date with a diary entry. Touch the date and a preview of the entry appears below the calendar at the bottom of the screen. Double-tap the date or touch the "Edit Diary Entry" button, and a yellow notepad pops up. Then simply type in your entry and click save. Easy.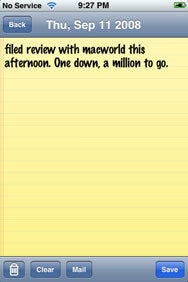 The only way to export an entry is through the device's built-in Mail function. The product developer helpfully notes that the e-mail function lets users "share your journals with your friends and family." But aren't there more convenient ways of doing the same thing that don't require a password-protected app?
iDiary Lite is exactly like iDiary except without the encryption. So the vast price differential—$7 versus $1—comes down to password protection. If your diary entries are extremely sensitive, then the extra $6 may be worthwhile. If not, go with the Lite version.
Both applications are compatible with any iPhone or iPod touch running the iPhone 2.0 software update.
[Ben Boychuk is a writer and columnist in Rialto, Calif. If you find his Snoopy diary, please burn before reading.]