Griffin Technology on Wednesday introduced the AirCurve, an "acoustic amplifier" dock for the iPhone, along with the Clarifi, a new case that boosts the capability of the iPhone camera. Both are expected to ship in October for $19.99 and $34.99 respectively.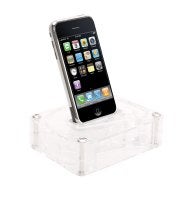 AirCurve is a translucent polycarbonate block you rest your iPhone on that features a coiled waveguide that amplifies the sound of the iPhone's built-in speaker. Working without batteries or power adapters, it helps to enhance the iPhone's audio output to, according to Griffin, a volume suitable for using it as an alarm clock. A passthrough slot also lets you charge and sync your iPhone.
The Clarifi is a protective case for the iPhone that provides access to the iPhone's power switch, headphone jack, volume controls and touchscreen. It also incorporates an "EasyDock" design that lets you slip off the bottom of the case to charge and sync your iPhone.
But what makes the Clarifi unique is its built-in lens, which can slide in place to magnify the iPhone's built-in camera. It's used for close-up shots, to improve detail and color if you're shooting pictures of objects four to six inches away from the phone.