A complaint I hear from many Windows switchers—and even some longtime Mac users—is that the Dock shows only programs, not windows in those programs. (Yes, you can right-click on any program icon in the Dock to see a list of its open windows, but I'm talking about what's normally visible.) In other words, that the Dock doesn't act more like Windows' Task Bar.
If you count yourself among the dissatisfied, Dockland Software's new $10 Fantasktik 1.1 offers a solution. Fantasktik adds a thin, well, task bar to your screen that includes a button for every window, with windows grouped by program. Click on a window's button to switch to that window. Double-click on a program icon to hide its windows' buttons; the number of open windows for each program is displayed in a small badge on the program icon. Double-click again to reveal the window buttons.
By default, Fantasktik's task bar appears either just below the menu bar or just above your Dock, depending on your setting. (If you have your Dock set to auto-hide, the bar appears at the bottom of the screen.) But by clicking-and-dragging either end, you can reposition the bar at any horizontal location. If you don't want the task bar visible all the time, just click on either end and the entire bar will collapse into that end; alternatively, there's an auto-hide feature that mimics the behavior of OS X's Dock.

The standout feature of Fantasktik is its live window previews. When you place your mouse cursor over a window's button, a large preview of the window pops up, letting you see at a glance if it's really the window you want to switch to. Slick.
Although Fantasktik has lots of potential, it currently has a few issues, as well. For example, if you have many programs and windows open, Fantasktik's icons and buttons don't shrink down to fit everything; some just get cut off. To view the hidden items, you must scroll left or right by dragging (clicking-and-holding) anywhere on the bar. Also, because the Fantasktik bar is so thin, if you hide OS X's Dock and place Fantasktik at the bottom of the screen, it's easy to accidentally access the Dock when trying to mouse over something on Fantasktik's bar. I also had a few programs that didn't "see" Fantasktik's bar, so their windows were drawn behind it. (An option in Fantasktik's settings lets you install Sidekick, an InputManager hack that aims to prevent this, but it doesn't help with all programs.) Finally, if you have multiple displays, Fantasktik works only on the main display (the one hosting OS X's own menu bar); you can't drag it to another display.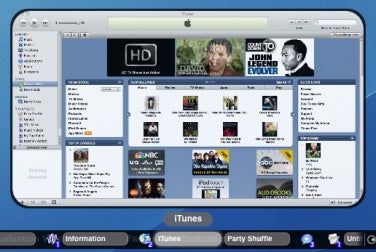 I'm also looking forward to additional options, such as the capability to customize Fantasktik's appearance (colors and icon sizes, for example) and window previews, and to exclude particular apps from the task bar.
Fantasktik 1.1 requires Mac OS X 10.5 or later.