At a Glance
Expert's Rating
Pros
Stylish
Solid construction
Very good image quality
Includes Wi-Fi
Cons
Must use computer connection to delete photos on device
No image shuffling in slideshows
Image adjustment controls limited to brightness
No audio or video support
Our Verdict
Ipevo's Kaleido R7 digital picture frame is beautifully designed, even if it doesn't particularly resemble a picture frame. Black and white with attractive touchpad controls, it is somewhat reminiscent of Apple's iMac G4 of a few years ago.
The Kaleido R7 will look right at home on a desk or in modern décor. The 7-inch widescreen can rotate on its solid, heavyweight stand and automatically orients pictures accordingly.
In my tests, the Kaleido R7 rendered pictures slightly cooler than the appearance of our original photos. Detail retention in midtones is very good, and well-exposed pictures looked dynamite on the matte screen—a good thing, since this frame offers a control only for brightness. There are no adjustment controls for color, tint, or contrast.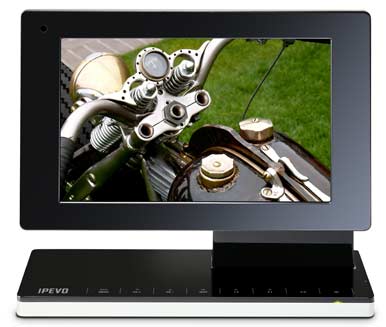 Like most frames, you can opt to have your pictures either fit the screen or fill it (and be cropped as necessary). Interestingly (and potentially useful to types like pro photographers and art directors), you also have the option of viewing metadata on-screen alongside your photos.
The Kaleido R7 has slots for SD/SDHC, MMC, and Memory Stick memory cards, a USB port for flash drives, and 512MB of internal memory. With the built-in 802.11b/g wireless connectivity, you can configure photo streams and RSS feeds using the included EyeStage software. You can easily set up the frame to stream photos from your iPhoto library or any folder on your Mac, or you can have the frame access RSS feeds, and online Picasa, Facebook, and Flickr accounts. The software also lets you adjust the timing of slideshows and pick transitions. If you want to delete pictures saved to the frame's internal memory, you must use the EyeStage software.
I liked the frame's intuitive menu operation and power on/off interval settings, and I also found the Wi-Fi connection simple to set up. However, it's hard not to wish that the Kaleido R7 had audio and video support. Ipevo also includes a remote control.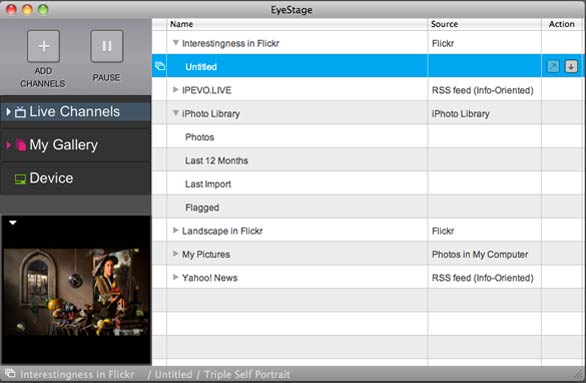 Macworld's buying advice
The Kaleido R7 is an attractive frame for dwellings with décor that's more modern than traditional, though it seems odd that a frame that looks so state-of-the-art lacks audio and video support. But its image quality is very good and its software is a breeze to use.
[Kathleen Cullen is a freelance contributor.]