At a Glance
Expert's Rating
Pros
Fast
High-quality black text
Easy setup
Cons
Security features are PC-specific
Our Verdict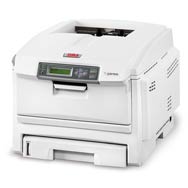 Oki's C6150dn is a workgroup color printer ideal for churning out fast prints in an office setting. The C6150dn comes with built-in 10/100 Ethernet for easy office network connectivity. Alternatively, you can connect through a USB 2.0 port to make the C6150dn a personal desktop printer, though at a bulky 57 pounds, you'll need to have a pretty big desk.
Instead of conventional laser printing, the C6150dn uses a light emitting diode (LED) printhead. While laser printers rely on combinations of mirrors and lenses and many moving parts, LED printheads employ a solid-state setup that remains stationary. Both laser and LED printers use toner, and if you compare the output, you won't recognize any differences. Oki offers a five-year warranty for the printhead.
The C6150dn offers 1,200-by-600 dpi resolution. It also has automatic duplexing, which allows you to print on both sides of a sheet of paper—a nice feature for anyone conscious about reducing both paper costs and waste. The C6150n can handle a wide variety of paper sizes, from 3-by-5-inch and 4-by-6-inch cards to standard 8.5-by-11-inch paper, and even banner-size sheets up to 8.5 inches wide and four feet in length. The printer's straight-through printing path allows you to feed heavy card stock up to 80 pounds. The paper capacity is a convenient 400 sheets; that means you won't constantly need to load more paper during large projects. Oki offers a 530-sheet paper tray as an optional upgrade for $185.
In our speed tests, we found that the Oki was a fast performer. It can print a single black text document in 12 seconds, and for our ten-page test the average time was around 35 seconds.
In our jury tests, which judged the quality of the C6150dn's prints against those from other printers, we found the black text to be of Superior quality, but text of different colors wasn't as sharp. When it came to our Fine Lines and Gradients test, the C6150dn earned only a Good rating; curved lines weren't perfectly smooth, but the gradients were. When we printed our standard Photoshop test image using the included ICC color profiles, the document received a Very Good rating compared to the other documents our jury analyzed. The colors were well saturated and the image was of such high quality as to compete with most inkjet printers. Prints made without using the color profile weren't as impressive.
Oki boasts of a plethora of security features, such as data encryption, password protection, and hard disk erasure, to prevent tampering. But almost none of these are Macintosh compatible, and those that are can only be accessed in an extremely roundabout way that requires the assistance of Oki's tech support. The printer did not come with documentation on how to access these features.
The C6150dn is intended to replace Oki's C6100 ( ). The latest model is faster and produces even better color photographic prints than the older C6100, making it a worthy upgrade.
Timed Trials: Print
| | |
| --- | --- |
| 10-page Word test | 0:35 |
| 1-page Word test | 0:12 |
| 22MB Photoshop image | 0:48 |
| 4-page PDF | 0:31 |
Scale = Minutes: Seconds
Jury Tests: Print
| | |
| --- | --- |
| Graphics: Fine lines and gradients | Good |
| 22MB Photoshop image quality | Very Good |
| Text quality | Superior |
Scale = Minutes: Seconds
Specifications
| | |
| --- | --- |
| Print resolution | 1,200 x 600 dpi |
| Standard/maximum RAM | 256MB/768MB |
| Connection | 10/100 Ethernet; USB 2.0 |
| Paper sizes | Letter, legal, banner up to 4 feet long |
| Cost to replace toner | $676 ($116.90 for a black toner cartridge yielding 8,000 pages, and $176.50 each for cyan, magenta, and yellow toner cartridges, all 6,000-page yields) |
| Weight (in pounds) | 57 |
| Dimensions (width x height x depth, in inches) | 13 x 17 x 22 |
| Paper capacity | 400 |
| Special features | Energy star, green printer; duplex printing |
Macworld's buying advice
Oki's C6150dn is a satisfying printer that will produce documents quickly, easily, and with superior black text quality. The photographic test documents were also stellar, making the Oki C6150 a great fit for customers seeking to print top-quality brochures or handouts with photo elements. For offices or small businesses that only require colored charts and printouts, this is a good workhorse printer with a good warranty behind it.
[Chris Holt is a Macworld assistant editor.]