Intuit on Thursday announced QuickBooks Accounting 2009 for Mac, a new version of the company's accounting software. It's expected to hit store shelves by the end of September for $199.95.
QuickBooks, aimed at small businesses that need accounting capabilities, provides you wit the ability to pay bills, track sales and expenses, print checks, create estimates, invoices, purchase orders and reports. You can use it to track inventory and employee time, synchronize it with outside applications and more.
QuickBooks Accounting 2009 for Mac adds a number of features that customers have requested, according to Intuit, including a "Home Page" that shows how different business tasks fit together; Customer, Vendor, Transaction and Report centers that organize data into single-page views; and a "Company Snapshot" that provides a real-time view of a business's financial picture.
The software gets improved online banking connectivity, so users can import information from more than 3,000 financial institutions. A new batch e-mail function lets you send documents like invoices all at once using either Apple Mail or Microsoft Entourage.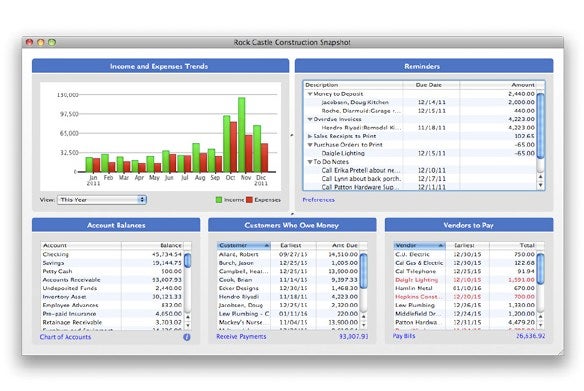 Integration has been improved between QuickBooks and iCal; To-Dos and update reminders are now synced. What's more, QuickBooks Accounting 2009 for Mac also imports sales data from Xsilva's popular LightSpeed point of sale software.
System requirements call for a G4/867MHz or faster; Mac OS X 10.5.4 or later; 512MB RAM; 150MB hard disk space.