Retro takes a new twist with MildMannered Industries' newest application for the iPhone, called Bakelite. It's available for free download from the App Store.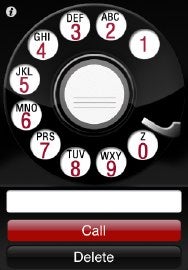 Bakelite mimics the look and operation of an old-style rotary telephone—it takes its name from the plastic resin used to make many old consumer products. Bakelite's retro appeal goes beyond just looks, though: MildMannered has also added rotary dialing and audio feedback. But unlike a real analog telephone, you can delete the last digit if you make a mistake.
Bakelite works with an iPhone or iPod touch running iPhone 2.0 software, but obviously will only make calls on an iPhone.