At a Glance
Expert's Rating
Pros
Two alarms
Can "tune" scads of Internet stations
FM radio
Plays MP3 files from USB storage devices
Cons
Sorting through those scads of Internet stations can be a trial
Streaming feature not supported on Macs
Built-in speaker no great shakes
Our Verdict
If you've bothered to select the Radio entry in iTunes' Source list, you know that you can listen to radio streamed across the Internet to your computer. But unless you have your Mac sitting on your nightstand, this isn't a terribly useful feature when you need a blast of Internet audio to get you up in the morning. Aluratek hopes to address this issue with its $149 Internet Radio Alarm Clock with Built-in WiFi .
As the name implies, the Internet Radio Alarm Clock not only plays local FM stations and includes an alarm feature, but also streams Internet radio across a wired (Ethernet) or wireless (802.11b or 802.11g) network. Additionally, it can play MP3 files from a thumb drive or hard disk plugged into a USB port on the front of the device. The Internet Radio Alarm Clock can also stream music from a media server over the network (or the Internet). Regrettably, this feature doesn't support iTunes streaming, but rather the Windows-based Windows Media Connect and Windows Media Player 11.
In, out, and around
Like your typical clock radio, the Aluratek unit includes a single, monophonic speaker, and that speaker sounds just about right for a clock radio—meaning not great but, given that it is a clock radio, acceptable. Fortunately, the device is capable of playing stereo audio via RCA and headphone jacks on the back of the unit. When played through a set of external speakers, it sounds as good as the source material and attached speakers allow.
Moving around the radio's Internet-radio-stations interface can be a chore. The system can access around 11,000 Internet radio stations, and finding the stations you want isn't terribly easy. Aluratek has tried to make the process less painful by grouping stations into locations (countries and, in the case of the U.S., states); genres (Alternative, Big Band, College, and Public, for example); new stations added to the list; and popular stations. However, even with these categories, you have to dig down through a lot of layers and scroll through many long lists to find just the stations you want. At least once you find a station, you can add it to a separate list of favorites, making it far easier to find in the future.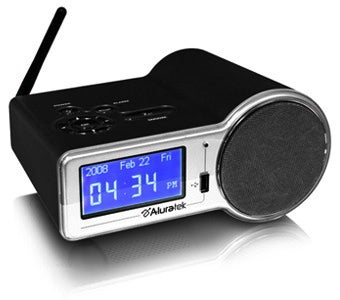 If you've got folders of MP3s on a USB thumb drive, for example, navigating through those folders works just as it does with, say, a CD of MP3s in your car's CD player. When you switch to the system's MP3 Reader function, the folders are presented as collections; select one and press OK on the top of the radio or on the remote, and the tracks inside that folder appear on the display. Select a track and press OK and it begins playing. Press the remote's Forward button to skip ahead 10 seconds. Press a separate Next button to advance to the next track in the folder. The Rewind and Previous buttons work similarly—scanning back 10 seconds and moving to the previous track, respectively. You march back up through the interface with arrow buttons arrayed around a central OK button—both on the radio itself as well as on the remote control. If you press the remote's Favorite button while a track is playing via MP3 Reader, that track is added to a My Songs Queue folder. This is a nice way to create a sort of on-the-go playlist of your MP3 files. Unfortunately, the list isn't maintained when you remove the USB device.
I mention the remote so frequently because you'll find the radio considerably easier to use with the included remote rather than with the controls on top of the device. The remote bears buttons for quickly adding a favorite station, as well as for quickly accessing the Internet radio, FM radio, or MP3 Reader. You can also use the remote's left- or right-arrow keys to access the radio's functions. For example, the Alarm feature, which lets you create two alarms, as well as program the snooze function for 15, 30, 45, or 60 minutes.
Macworld's buying advice
With access to over Internet 11,000 stations, FM radio, and MP3 tracks, the Internet Radio Alarm Clock offers far more audio than you'll be able to enjoy in the lifetime of the device—even through some of it may initially be a chore to find. That said, the fact that it can't stream the contents of your iTunes library makes its Media Player feature useless to Mac users (as well as Windows users who keep their music in iTunes). But for $149 it offers a remarkable helping of functionality in a clock radio. If you need that amount of music by your bedside, it's definitely worth a look.
Senior Editor Christopher Breen pens Macworld's Playlist blog.