LaCie on Thursday announced the 4big Quadra, a four-bay external RAID hard disk system for Macs and PCs. It's priced starting at $899, comes in 2TB, 4TB and 6TB configurations, and is expected to debut in October.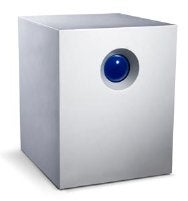 The 4big Quadra sports seven hardware-based RAID modes including RAID 0 and RAID 5. It's Time Machine-compatible and includes other backup software as well. The four drive bays can hot-swap drive mechanisms.
The 4big Quadra incorporates external Serial ATA (eSATA), FireWire 400/800 and USB 2.0 interfaces. It's stackable and chainable — you can scale up to four units to operate together at once.
LaCie said the 4big Quadra is also more energy-efficient than "traditional" RAID towers, using 30 – 80 percent less energy, and sporting a cooling system that's almost 50 percent quieter.