Of course the iPhone isn't in favor of digital piracy, but that doesn't mean that it can't help you enjoy the rich culture and heritage of seagoing marauders. In honor of the 13th annual International Talk Like a Pirate Day on September 19th, Area 49 has released ayePhone (iTunes link), a ninety-nine cent iPhone application that helps you, too, avoid the critical mistake of speaking like a non-pirate on this, the holiest of all pirate days.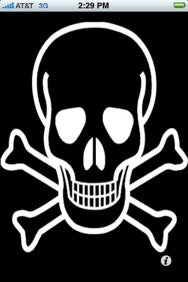 Tempting as it is to fill this entire post with nothing but piratical jargon, that seems a little too obvious for my tastes. But if you really feel the need to get the full buccaneer effect, you can always view a pirate version of this post with the help of ye olde Pirate Translator.
Anyway, ayePhone displays a large traditional pirate insignia of skull and crossbones; every time you tap said icon (be careful not to use your hook hand), you'll be rewarded with a sound clip of an appropriately piratey expression. Yes, it's of limited utility—Lonely Planet Pirate Phrasebook this is not (that would be arrrrrguably the greatest application ever). But hey, at a buck, it's a mere fraction of a doubloon. And you'll totally be set for every International Talk Like a Pirate Day ever.
If nothing else, it's cheaper and will waste far less of your life than the last two installments of Pirates of the Carribbean.