David Weiner Ventures (DWV) on Friday introduced the Art.Suono Wireless Music Transmission System and iPod Dock. It's planned for an October release for $1,499.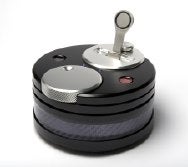 Billed as a "limited edition luxury product," the Art.Suono allows you to transmit any audio source, including an iPod, using an integrated dock connector, to any audio system.
The Art.Suono also features "DWC-APHEX" circuitry which restores harmonics lost in compressed music, according to the developer. The result is improved spaciousness and clarity of sound and more resonant bass response.
The Art.Suono incorporates a concealed input signal jack, LED indicators and volume control. An iPod on the Art.Suono will be recharged, as well. The device is made of machined aluminum with carbon fiber accents. It comes with a receiver that may be displayed or hidden; each Art.Suono powers up to two receivers, so you can use multiple music systems.
DWV hadn't updated its Web site with information about the Art.Suono as Macworld posted this article.