Here's the simple, if improbable premise behind What's On?: You're meeting with an important client, say, or you are attending a friend's wedding when suddenly the thought hits you: Holy Toledo! Isn't it 15 minutes to SpongeBob?
Strange as that may sound, it's a conundrum that more of us have faced than we might care to admit. Time was, we had to wonder in silent torment and wait minutes or possibly hours before our suspicions could be confirmed. Now the solution is simple: Just whip out your iPhone or iPod touch, launch What's On?, check your favorites, and rest assured that SpongeBob awaits.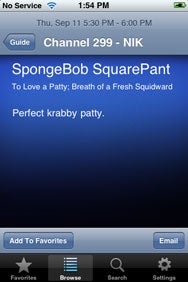 In short, What's On? is like TV Guide for the iPhone and iPod Touch. What's On? tells you what's on right now. If you consult What's On? at 3:43 on a Friday afternoon, you will find that SpongeBob SquarePants already started on Nick. But not to worry, there is another episode airing at 4:00.
The app features more than 10,000 channels and 13,000 cable and satellite providers for the United States. (The next version is supposed to include data for Canadian television, too.) When you launch the program, you will see a prompt for your ZIP code. What's On? doesn't support multiple locations. Once you've entered your ZIP, the app then displays all of local or regional providers. From there, you simply choose your preferred provider, and a lengthy list of channels pops up. Eventually.
If What's On? seems slow to load, that's because it is. The load times are forgivable, given the sheer quantity of data that the app is attempting to corral and display. Making channel lists customizable, however, would cut down on load times considerably. The developers promise customization in the next version.
Users can save certain shows to a list of favorites, which will display all of the program's upcoming times. A useful addition would be to allow users to save favorite channels, as well.
Once you find the show you're looking for, you can tap the show's title for a very brief description (e.g. "Squidward decides to move away from Bikini Bottom"). You can also e-mail show listings to friends.
The interface is a bit clunky. Because What's On? is all about what's on right now, the app subtly yet perversely discourages users from looking up what's on later. The arrow keys at the top of the screen change the date, so you can see what's on at 4:00 tomorrow, or the next day, or the day after that. To look ahead on today's schedule, you simply touch the screen and slide your finger to the side. This can be a tedious exercise if you are looking several hours ahead.
(Also: Be careful not to touch the channel index numbers on the far-right of the screen; several times, I found myself suddenly looking at a different part of the schedule because of a mere slip of the finger.)
What's On? is a solidly utilitarian app for the couch potato set. With a few modest improvements and faster loading times, it could be a great one. Now if you will excuse me, I have a date with a Goofy Goober.
What's On? is compatible with any iPhone or iPod touch running the iPhone 2.0 software update.
[Ben Boychuk is a writer and columnist in Rialto, Calif.]