Sony on Friday introduced four new audio products that work with dockable iPods and iPhones. A new clock radio, boombox, tabletop HD Radio and docking speaker are all expected out between now and October.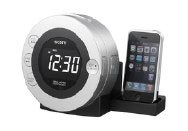 The ICF-CD3iP is a CD clock radio with a hidden dock for iPhone an iPods equipped with dock connectors. It features a large liquid crystal display, and will charge the battery of an iPod or iPhone sitting in the dock. A remote control provides access to the device's music functions. It supports CD-R/RW playback and also has a digital AM/FM tuner. It goes on sale later this month for about $100.
The ZS-S4iP is a boombox that features "Mega Bass Sound." It has a removable cover so you can connect your iPod touch or iPhone and control it directly; a wireless remote is also included. In addition to iPod connectivity the ZS-S4iP features CD and radio capabilities, with 20 AM and 10 FM presets. It's coming in October for $100.
The XDR-S10HDiP is an HD Radio with iTunes Tagging. Stations that broadcast HD Radio signals offer better-quality sound, and iTunes Tagging lets you identify songs you'd like to buy; the "tag" information is stored in a playlist on the iPod, and the next time you sync the iPod to your Mac you can purchase those songs from the iTunes store. It also features auxiliary input support and 20 AM and FM radio presets. Look for it this month for $180.
The SRS-GU10iP is a docking speaker with a "piano black" wood finish. It charges iPods and iPhones and includes an auxiliary input. It can run on an AC adapter or batteries. It features bass sound enhancement and a remote commander. It costs $150 and will be available later this month.