Apple on Friday announced the Ultracompact USB Power Adapter Exchange Program. The safety alert is aimed at all iPhone 3G owners in the U.S., Canada, Mexico and several Latin American countries.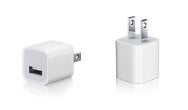 The program allows users of iPhone 3G units with the ultracompact USB power adapter to exchange it, free of charge. Apple has initiated the exchange because of a safety issue.
"Apple has determined that under certain conditions the new ultracompact Apple USB power adapter's metal prongs can break off and remain in a power outlet, creating a risk of electric shock. We have received reports of detached blades involving a very small percentage of the adapters sold, but no injuries have been reported," said Apple.
Apple advises users who are using the ultracompact adapter that came with their iPhone 3G to stop using them immediately until they receive a new, redesigned adapter. Users should recharge their iPhone 3G's battery with the USB cable that came with their iPhone, connected to a computer, or by using a standard-sized Apple USB Power Adapter (with fold-up prongs), or with a third-party adapter designed to work with the iPhone.
Replacement adapters will be available beginning Friday, October 10, 2008, according to Apple. You can order a replacement adapter online, or exchange the adapter at an Apple Retail Store.
Adapters affixed with a green dot at the bottom have been redesigned.