Back in early August, the US Transportation Security Administration (TSA) announced new rules covering "checkpoint friendly" laptop bags. The goal of these regulations is to increase the speed and efficiency of airport security checkpoints by allowing passengers to keep their laptop computers in their bags during X-ray screening. However, there's quite a bit of confusion about what, exactly, constitutes a checkpoint-friendly bag and the specific rules for using one. Today's Mobile Mac gives you the lowdown.
What is a "checkpoint friendly" bag?
According to the TSA, these are the criteria a laptop bag must meet to be considered checkpoint-friendly:
It must have a designated laptop-only section.
The laptop-only section must unfold completely to lie flat on the X-ray belt.
No metal snaps, zippers or buckles can be located inside, underneath, or on top of the laptop-only section. (In other words, metal elements must be positioned so they do not overlap the body of the laptop in an X-ray image.)
It cannot have pockets on the inside or outside of the laptop-only section.
Nothing can be packed in the laptop-only section other than the computer itself. (This is more of a guideline for packing than for designing a bag, although a laptop compartment that fits a computer perfectly makes it more difficult to fit additional items.)
Not listed in the guidelines, but mentioned on the TSA Web site under the topic of Industry Process and Guidelines, are warnings against thick bag dividers and thick emblems or seals on the laptop-only section. These elements can prevent security-checkpoint X-rays from obtaining a clear image of your laptop.
What kinds of bags meet these guidelines?
Vendors are meeting the requirements in a couple ways. One is by designing bags that unfold so that the laptop section presents an unobstructed X-ray view. (There's no restriction against having zippers, buckles, or other metal parts on the sides of the laptop section, as long as these parts don't in any way obstruct the X-ray view of the laptop.) Another is by hosting the laptop in a basic sleeve or cover that detaches or can be removed from the main bag.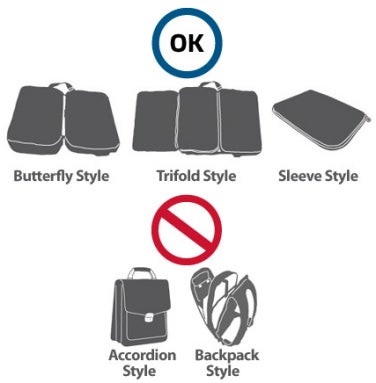 Shown here are the TSA's sketches of these types of bags, taken from the agency's New 'Checkpoint Friendly' Laptop Bag Procedures Web page. Note that both approaches — removable-section and folding-design—still require you to remove something from your bag, or reorganize the bag's configuration, at the security checkpoint. So it's not as if having the right bag will let you just plop it down on the conveyor belt.
Are vendors really redesigning their bags for these new guidelines?
Apparently so. The TSA notes, in the Procedures article linked above, that over 60 manufacturers of laptop bags responded to the TSA's announcement with intentions to create checkpoint-friendly bags, and 40 submitted prototypes to the agency for feedback. Since the new policy went into effect, a number of vendors have contacted us specifically to let us know that they have new or existing bags that meet the guidelines; these include Brenthaven, Briggs & Riley, Mobile Edge, Skooba, Solo, Targus, Tom Bihn, Travelon, and WaterField Designs.
Does this mean I have to buy a new bag?
Not necessarily. Many existing bags already meet the guidelines, especially simple sleeves with no zippers or pockets. So before you go out and spend money on another bag, take a good look at your current bag to see how it fares. Even if your favorite bag doesn't meet the requirements, if your main concern is keeping your laptop from getting scratched or otherwise damaged when it goes through the checkpoint X-ray, you can purchase an inexpensive sleeve and carry your laptop in that sleeve inside your current bag. When you get to the security checkpoint, you'll still have to remove your notebook from your bag, but you can keep it in the sleeve.
Where do I find out which bags are officially checkpoint-friendly?
The TSA doesn't actually certify bags as checkpoint-friendly; it simply provides vendors with guidelines and suggestions for making such bags. If a vendor claims a particular bag or case is "TSA checkpoint friendly," that simply means the vendor has designed the bag to meet the TSA's published requirements. Different vendors can interpret those guidelines differently, so it's possible to buy a "checkpoint-friendly" bag and still be asked to remove your laptop at an airport security checkpoint (see the next item). This means you must use your own judgement when buying a bag to determine how closely it adheres to the TSA's rules.
So now that I have a checkpoint-friendly bag, I'll never have to take my laptop out again, right?
Unfortunately, having a checkpoint-friendly bag, even one that closely adheres to the TSA's rules, doesn't guarantee that you won't have to remove your notebook at a security checkpoint. The TSA reserves the right for any agent to require you to do so; for example, if the X-ray view of your bag isn't clear enough, or if an agent sees something in the X-ray that cannot be identified or raises suspicions. To reduce the chances of this, you shouldn't put anything else in the laptop section of your bag—or in any adjoining pockets or compartments—that might obscure a clear X-Ray view. (And remember, checkpoint-friendly bag or not, the TSA can choose to do a secondary search of any passenger or bag. So pack the rest of your carry-on baggage accordingly.)
As you can see, these new rules aren't a panacea for the hassles of traveling with a laptop. The reality is that unless you actually carry your laptop in a basic sleeve, you'll still need to do some unpacking or reconfiguring—for example, taking a sleeve out of something else, detaching a checkpoint-friendly section, or expanding a folding bag—at the security checkpoint. On the other hand, checkpoint-friendly bags are designed to make such processes quick and easy (unlike bags where removing your laptop is a major undertaking). And for those of us who obsess over the scuffs and scratches that seem to always occur when placing our precious laptops in beat-up plastic bins, the new guidelines mean we can at least keep those computers in a protective sleeve through the checkpoint.