Polarbit, the game developer that created Crash Bandicoot Nitro Kart for the iPhone on behalf of Vivendi Games, has announced the release of a new iPhone and iPod touch game called Raging Thunder. Priced at $7.99, it's a new arcade-style auto racing game.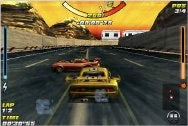 Raging Thunder features four different car models to race and several different tracks to race on. The game has single-player modes that let you race against iPhone-controlled opponents; Wi-Fi users can also race against each other. You can upgrade your car with speed, acceleration and grip improvements and collect powerups that will boost your speed and give you extra cash.
Raging Thunder works with any iPhone or iPod touch running iPhone 2.0 software.