Gorloch Interactive has released Campaign, an iPhone and iPod app to keep you in the loop on American politics in the run-up to the presidential election. It costs 99 cents.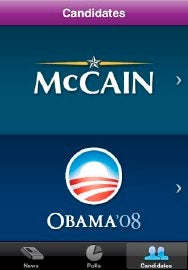 Campaign aggregates news related to Senators Barack Obama and John McCain, the Democratic and Republican nominees for President of the United States. The application—which its developers caution is not biased towards one party or the other—collects news headlines from popular online sites related to the election, to help you stay informed.
System requirements all for an iPhone or iPod touch running iPhone 2.0 software.