Xerox on Monday introduced two new desktop multifunction laser printers — the Phaser 3300MFP and WorkCentre 4260MFP. They're priced at $599 and $2,999 respectively.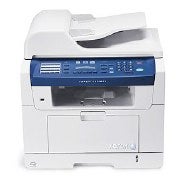 The Phaser 3300MFP sports 30 page per minute output and can scan in color or black and white directly to an attached USB thumb drive, e-mail or the network. The 3300MFP has a 50-sheet multipurpose tray and can copy and color fax as well.
The Phaser 3300MFP sports built-in 10/100baseTX Ethernet and USB 2.0 connectivity, and comes standard with 96MB of memory. It's compatible with Mac OS 8.6 or later, including Mac OS X.
The WorkCentre 4260 is aimed at offices looking for a higher-output device; the printer can print and copy at up to 55 pages per minute, and sports features like "ID Card Copy," which lets you copy both sides of an ID or insurance card onto one side of a page. Fax Forward to Email helps you send inbound faxes to a specific e-mail address. The WorkCentre 4260 also features automatic two-sided printing and a "Save Print" feature that lets you store frequently used documents and forms onto a built-in hard drive.
The WorkCentre 4260 features 600 sheet standard capacity and comes in variants that feature walkup fax and LAN fax capabilities; the optional models cost $3,599 and $5,499 respectively.
Other features of the WorkCentre 4260 include the ability to allow multiple workers to print, copy, scan and fax simultaneously. A "Print Around" feature lets you keep other print jobs running if one is held up because of a lack of the correct-sized paper, for example. It also includes a 7-inch graphical touch screen.