Codefromtokyo has announced Japanese 1.0 for iPhone and iPod touch. It's available for purchase and download from the App Store and costs $19.99.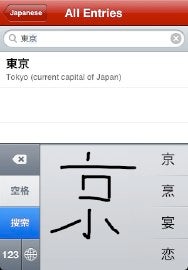 Designed as a Japanese language aid for those learning Japanese and those who need to speak it, Japanese features more than 127,000 entries. It works offline, and lets you browse through the vocabulary or search through an entry.
Entries are then displayed in their Japanese form along with a romanized transcription, to aid users who are not already familiar with Hiragana/Katakana. Verbs, adjectives and counters are displayed along with their conjoined forms. Entries are grouped into lists like "economics," "food" and "sport" to make them easy to find.
The software also features drawing animations for about 2,500 kanji characters—1945 "daily-use" kanji are included along with 555 kanji commonly used in Japanese names. Proverbs, common expressions and Hiragana/katakana charts are also included.
Japanese requires an iPhone or iPod touch running iPhone 2.0 software.