The denial and removal of applications from the App Store has become a hot-button issue and adding fuel to the fire is news from over the weekend that Apple has blocked another program.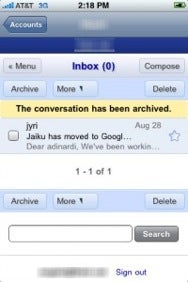 Angelo DiNardi's MailWrangler aimed to simplify the lives of those using multiple Gmail accounts by allowing them to log into different accounts simultaneously and quickly switch back and forth between them.
Unlike the built-in Mail client, MailWrangler embeds WebKit and allows users to access their Gmail via the iPhone-friendly web interface. This allows access to various features that aren't supported by the iPhone's Mail program, such as starring messages, threading, and Google contacts. MailWrangler also offers advantages over using the iPhone's Safari web browser, specifically in allowing users to stay logged into multiple accounts without having to manually log in every session.
After waiting for about six weeks, DiNardi finally got a response from Apple that denied MailWrangler on the basis that:
… Your application duplicates the functionality of the built-in iPhone application Mail without providing sufficient differentiation or added functionality, which will lead to user confusion. …
"Duplication" previously became a watchword in Apple denials after the application Podcaster was denied for duplicating features of iTunes. DiNardi thinks the additional features that MailPlane offers to Gmail users makes it sufficiently different from Apple's own Mail application; he even points out there's an application for the Mac called MailPlane that does roughly the same thing, suggesting that there is at least some sort of user demand for this functionality.
The issue of "user confusion" seems to me that it would depend more on how the application is marketed. If it was clearly described as something to allow quick and easy access to multiple Gmail accounts, it seems like the kind of confusion that Apple is envisioning could easily be avoided. Apple has let in third-party apps that add more features than their own built-in programs, such as notepad programs like MagicPad—where's the line for "duplicating" functionality?
In my opinion—and yes, this is my opinion—the confusion issue is a bit of a red herring. Apple seems to have no issue with a score of different Sudoku apps or applications with the same name. Sure, it's Apple's store and they can take their toys and go home any time they want. But it seems like it would go a long way for Apple to at least cultivate the perception that everybody in the store—themselves included—are playing by the same rules.