You've got to hand it to Apple—the company has actually convinced most of the human race that at any given Apple product-launch event, it's entirely possible that the world will be changed irrevocably by the time Steve Jobs strides off the stage to applause.
Yes, every so often an Apple product announcement is so groundbreaking and dramatic that it changes the industry around it. That certainly happened in the fall of 2001, when Jobs unveiled the iPod. And it may well have done so again in January 2007, when the company announced the iPhone. But as disappointing as it is to Apple fans and members of the media who love being the first ones to hear about the Next Big Thing, most of the time the company's announcements are about tending its garden, moving its product lines forward and improving its bottom line. That's the kind of announcement we heard from Apple on September 9, when the company rolled out a new line of iPods.
Meat and potatoes
So if you were expecting a groundbreaking, dramatic new product from Apple on Sept. 9, you were undoubtedly disappointed. After all, this new round of announcements was all about slight tweaks to functionality, improved storage capacity, and lower prices. But even the most innocuous fall introduction of new iPods serves an extremely vital purpose: they usher in the most important three-month period of Apple's year.
Driven by the iPod, Apple's earnings during the holiday quarter — the first quarter of Apple's fiscal year, as shown in the charts below — are the company's strongest. Apple sells more than twice as many iPods during that quarter than it does in any other. And those iPods generate massive piles of cash for Apple, making it the company's most profitable quarter as well. Rolling out new iPods with new colors and whizzy new features helps whip up desire and excitement about the new products, which Apple hopes will lead to millions of iPod boxes being wrapped in colorful paper and given as gifts throughout the land come December.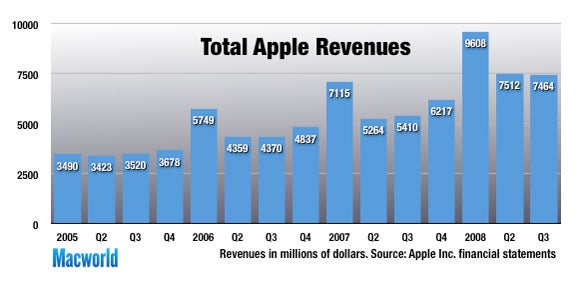 Consider the fact that Steve Jobs ceded the stage to Apple marketing chief Phil Schiller for several minutes during the presentation, specifically so he could demo numerous games at length on the iPod touch. That not-so-subtle message—reinforced by giant banners for the iPod touch showing screen shots of games such as Tapulous's Tap Tap Revenge—is that the iPod touch makes an awesome stocking stuffer, because it's a music player, video player, and gaming console, all in one. You can almost hear the cash registers belting out "ka-ching" in the background.
Slowing growth
It will be interesting to see how well the iPod sells this holiday season, mostly because I'm starting to wonder if there's anyone left who doesn't own one. But of course, that's why Apple has even more motivation to keep adding features and making changes to the products: the existence of a shiny new version gives people more reason to consider throwing their old model overboard.
The age of explosive iPod sales is over. Holiday iPod sales grew less than five percent last year, after years of runaway growth. And with that change, Apple is shifting its approach. No longer does Steve Jobs boast about the runaway growth of the iPod market; instead, he boasts about the iPod's nearly three-quarters market share in the music player market.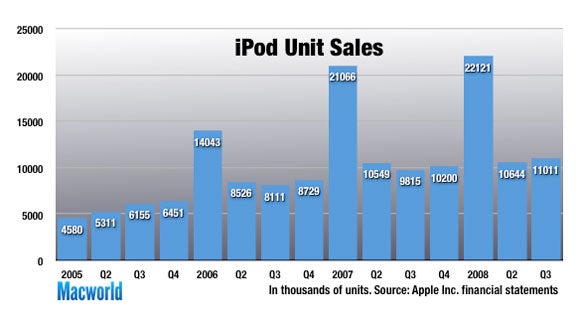 The maturing of the iPod is visible in another way, as well: the gradual decline and death of the original iPod, now dubbed the "iPod classic." The classic's death is inevitable now; I can't really imagine it surviving more than a year. The larger, thicker classic, previously available with 160GB of storage, has vanished, despite the existence of a new hard-drive mechanism that could have taken the "fat classic" up to 240GB of storage.
I'm pretty sure this marks the first time the maximum size of the iPod line has decreased, but there's a good reason that you can't buy an iPod classic larger than 120GB now: Whenever the iPod touch finally gets a bump to 128GB of memory—perhaps a year from now—Apple will be able to discontinue the classic iPod and point out that the new model actually provides more storage space than its predecessor. Thus ends the iPod's childhood.
Three slices of Apple
Apple is a multifaceted company these days. The iPod is maturing, but dominant. The Mac is experiencing a huge resurgence in sales and in respectability. And the iPhone may be experiencing an iPod-like period of massive growth. (Certainly the revelation that users downloaded more than 100 million applications in the App Store's first 60 days suggests that Apple's on the right track there.) In some ways, it's operating more like three separate, related companies.
That might be a useful way for Apple-watchers to view the company, too, if for no other reason that it's an approach that can help reduce the disappointment one might get when Steve Jobs appears on a stage somewhere and doesn't announce your personal favorite all-time Apple product. For example, it's rare that Apple holds a special music-themed event and then announces a new laptop, yet I heard from dozens of people who were disappointed that Apple's Sept. 9 event didn't include a brand-new MacBook Pro.
I guess all the high expectations prove that Apple's doing something right. But even the most proficient baseball player gets a hit less than 40 percent of the time. So it's important to keep in mind that Steve Jobs won't shake the world every time he takes the stage at an Apple event—and that's okay. A clutch of new iPods might not rock your world, but they'll certainly fill Christmas stockings—and that's good for Apple's future.