Last year's Creative Suite 3 update brought the return of Premiere to the Mac platform. Premiere undergoes another update as part of Adobe's revamped CS4 lineup, as do Adobe's offerings aimed at video pros—the venerable After Effects and the relatively new Soundbooth.
Premiere Pro updates tapeless camera support
The changes to Premiere Pro, Adobe's video production tool, focus on improving the workflow throughout the production process.
Leading the changes in Premiere Pro CS4 is added support to import and natively edit content from Panasonic P2 cameras in DVCPRO and DVCPROHD, and AVCHD formats, and across multiple P2 cards. You can also import and edit content from Sony XDCAM EX and XDCAM HD cameras directly, without rewrapping or transcoding.
Adobe is also answering the call to allow many encoding features in the application. Adobe Media Encoder allows users to produce batch encodings for iPod, FLV and F4V, Windows Media, MPEG-2, H.264, QuickTime and others.
Perhaps the coolest feature in all of the Creative Suite 4 products is Speech Search. This technology analyzes your video and turns the speech into text-based metadata. That makes your video searchable for individual words or phrases.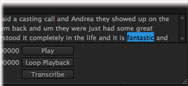 For instance, if you are working with a video and you remember the speaker saying something about "Creative Suite 4," you can go to the search box enter in that search term and Premiere will take you to that point in the video.
The text is also embedded in the output rendered from Premiere Pro. This means that it will be accessible to search engines scouring the Internet.
Premiere Pro CS4 will cost $799 when it arrives in October. Owners of any previous version of Adobe Premiere Pro, Adobe Premiere, or Adobe Encore DVD can upgrade to Adobe Premiere Pro CS4 for $299. Owners of Adobe Premiere Elements 7, 4, 3, or 2 can purchase Adobe Premiere Pro CS4 for $699.
After Effects offers searchable timelines and projects
Adobe After Effects, which delivers visual effects and motion graphics, adds several important features—chiefly, the ability to search timelines and projects.
Being able to search a timeline is a significant feature, as video projects become more complex and deeper. Finding a specific asset in a project can actually be a daunting task, especially when it's a project you're not familiar with.
After Effects CS4 now lets users search timelines by layer names, properties, comments or expressions, effect names, and parameters, among others. You can also search projects for specific footage items or footage properties, such as scanning by file type to find all the SWF files that have been imported.
After Effects also allows you to import and animate Photoshop 3-D layers in your composition. The layers can then be viewed as 3-D objects using cameras in After Effects. This allows designers to use Photoshop and After Effects to create complex 3-D files without the need to render (and often times re-render) projects in a dedicated 3-D application.
Another edition, the Cartoon effect, allows you to apply the appearance of cel animation or watercolor paintings to live action or computer-generated 3-D imagery.
Continuing with 3-D, After Effects now allows users to separately keyword the X,Y, and Z position properties to be keyframed separately—a helpful change if animation requires camera positions to change elevation or other complex styles.
As it has with many other CS4 applications, Adobe has integrated After Effects more tightly with Flash. Some things like text animation could be exported in previous versions, but now you can also export After Effects compositions as layered projects that you can imported into Flash CS4 Professional. FLV, PNG, and JPG source footage files are passed directly to the Flash Professional project without transcoding, according to Adobe.
Adobe After Effects ships in October for $999. Owners of After Effects CS3, After Effects 7.x Professional or Standard, or After Effects 6.x Professional or Standard can upgrade to Adobe After Effects CS4 for $299.
Soundbooth adds multitrack support
Adobe's professional audio editing application, Soundbooth, added a new feature requested by many users—multitrack support.
Another handy new feature included in Soundbooth is automatic volume matching. This allows users to equalize the volume of multiple speakers. Say you have audio of an interview where the one speaker's voice is very soft and another's is loud—volume matching will match them by analyzing both vocal tracks.
MP3 compression preview allows users to preview the sound quality at whatever bit rate they select and see the consequent file size before saving.
The integration that characterizes CS4 continues with Soundbooth. Flash Professional, Premiere Pro, and After Effects all have a new Edit In Adobe Soundbooth menu command that users to allows roundtrip edits.
Like Premiere Pro, Soundbooth also features Speech Search, allowing you to search an audio file and quickly find words and phrases.
Soundbooth will be available in October for $199. Owners of Adobe Soundbooth CS3 can upgrade to Adobe Soundbooth CS4 for $79.
Soundbooth is also part of the $1,699 Web Premium Suite, which also contains Photoshop CS4 Extended, Illustrator CS4, Acrobat 9 Pro, Flash CS4, Dreamweaver CS4, Fireworks CS4, and Contribute CS4.
All three video applications—Premiere, After Effects, and Soundbooth—form the $1,699 Production Premium Suite, which also includes the CS4 versions of Photoshop Extended, Flash, and Illustrator, along with the DVD creation tool Encore and the direct-to-disk recorder OnLocation.
Updated at 9:40 a.m. on Sept. 23 to correct the formats supported by Premiere Pro CS4.