Bloggers looking to post from their iPhone have a new option in illumineX, inc.'s new iBlogger 1.0.5 application, released today in the App Store. It costs $9.99.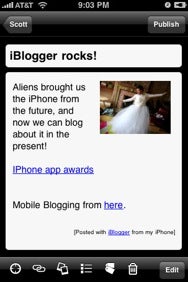 Based on illumineX's Mac blogging application ecto, iBlogger is compatible with many of the most common blogging systems, such as MovableType, TypPad, WordPress, Drupal and others. It also works with popular blog hosting services like Xanga and Blogger and supports both the MetaWeblog and MovableType publishing standards that many other blog engines use.
With iBlogger, users can post text blog entries, as well as also uploading pictures from their iPhone to their site, adding tags and categories, inserting hyperlinks, and even inserting a Google map of their current location at the tap of a button. Real Simple Discovery and automatic configuration makes setting up blogs easy.
iBlogger requires an iPhone or iPod touch running version 2.0 or later of the iPhone software.