At a Glance
Expert's Rating
Our Verdict
Although I usually focus on software in Mac Gems, I occasionally highlight hardware or an accessory that's inexpensive or an especially-good value. Today's Gem meets both criteria.
We often recommend upgrading from Apple's stock earbuds as one of the best investments you can make for your iPod or iPhone. But it's only fair to mention that, as earbuds go, Apple's headphones offer decent sound quality. In fact, many of the people who end up buying other headphones may be satisfied with the sound of Apple's 'buds—they just can't stand the fit. For some, Apple's earbuds simply don't stay in; for others, they're uncomfortable.
A potential solution is Innovelis' $9 BudFits, simple around-the-ear clips, made of stiff, rubbery material, that hold Apple's earbuds in place. Available in clear, white, or black, each BudFit provides a short tube, into which you snap the stem of one of Apple's earbuds, cable-end up. You then press the headphone cable into a groove on the clip; this wraps the cable over and behind your ear, which I find makes the cable less likely to get in the way or get caught on things.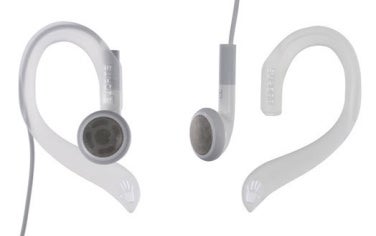 The result is a set of earclip-style headphones based on your iPod or iPhone's stock earbuds. The obvious advantage is that the earbuds no longer fall out easily; in fact, they're secure enough for vigorous exercise. But another benefit is that you may find your iPod's earbuds to be more comfortable, since you no longer have to mash them into your ears to get them to stay put.
On the other hand, BudFits are a tight fit for large ears, and even with medium-size ears like my own, the back of my ear got slightly irritated after wearing Budfits for four or five hours straight. (I was fine for a couple hours of wear at a time.) Finally, BudFits don't work with any other earbuds—only Apple's current version.
But if you like those earbuds and just wished they fit better, BudFits can make them more comfortable and secure, and do it for less than the price of an iTunes album download.