At a Glance
Expert's Rating
Pros
Integrated scanner
1.8-inch LCD
Cons
No support for film or slide scans
No high-bit scanning
Our Verdict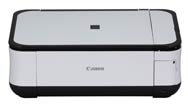 Canon's Pixma MP480 is an inexpensive multifunction ink-jet printer with an integrated flatbed scanner and copier. This basic all-in-one unit doesn't have all of the fancy features found on some of the MFPs we've tested recently, like integrated fax capabilities, an automatic document feeder, or wireless connectivity; but the MP480 proved to be a very capable device in all of its functions.
Easy to set up and install, the light gray and black MP480 is both compact and attractive. It connects to your Mac via USB 2.0 and uses two ink cartridges, one black and one tri-color (cyan, magenta, and yellow).
The MP480 sports a small but useful 1.8-inch color preview LCD that allows you to view the photos from an inserted memory card and to choose which images to print. When not in use, the LCD folds down.
The paper output tray can be kept closed when not in use to prevent dust from getting inside the printer. When you print, the door will automatically flip down to allow the prints to exit the machine. As someone who uses my home ink-jet printer only occasionally, I know firsthand how much dust printers attract and welcome these dust protection design elements.
In terms of print speed, the MP480 was a solid performer. It took 25 seconds to print a 1-page Word document, slower than some of our recently reviewed ink-jet MFPs that printed the same document in about 18 seconds. Printing a 10-page Word document, however, showed the MP480 to be faster on longer jobs than those other ink-jets. The MP480's print quality received Very Good marks from our jury and even managed a Superior text printing score, a difficult ranking to attain for ink-jets. Our standard picnic tests photo looked great, with accurate color, good shadow detail, and continuous tone with no visible dots.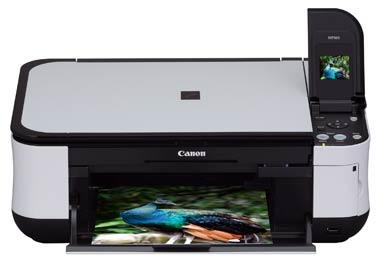 Scanning times were fast, though the speed was mainly due to the fact that the scanner is limited to producing 24-bit images instead of the 48-bit images preferred by imaging professionals. But 24-bit images have plenty of image data for the majority of users, and it's doubtful that color pros will be considering a $100 all-in-one printer for their primary workhorse. That said, the MP480 scans were of Very Good color quality; they were a touch red and a little dark, but that's nothing a little tweaking couldn't fix. The scanner also performed well on our resolution test chart scans, having no problem capturing many fine details.
When testing the copier, we found, not surprisingly, that copies of our photographic test images looked about the same as the scans of those same images. The copies were a little bit darker than the original, but with good color and pretty good detail, though there were more visible dots in the copies than on prints from our Photoshop test files. Copies of other items, such as a magazine cover, looked better.
Timed Trials: Print
| | |
| --- | --- |
| 10-page Word test (Normal) | 1:43 |
| 1-page Word test (Normal) | 0:25 |
| 22MB Photoshop image (Best) | 4:25 |
| 4-page PDF (Normal) | 2:12 |
Scale = minutes:seconds
Timed Trials: Scan
| | |
| --- | --- |
| 8-by-10-inch photo, 600 dpi scan, 24-bit | 0:48 |
| 4-by-6-inch photo, 1,200 dpi scan, 24-bit | 1:20 |
Scale = minutes:seconds
Jury Tests: Print
| | |
| --- | --- |
| Graphics: Fine lines and gradients | Very Good |
| 22MB Photoshop image quality | Very Good |
| Text quality | Superior |
Scale = Superior, Very Good, Good, Fair, Poor
Jury Tests: Scan
| | |
| --- | --- |
| Color | Very Good |
| Clarity | Good |
| Copy | Good |
Scale = Superior, Very Good, Good, Fair, Poor
Specifications
| | |
| --- | --- |
| Print resolution | 600 x 600 dpi (b&w) or 4,800 x 1,200 dpi |
| Scan resolution: Optical | 2,400 by 4,800 dpi |
| Max scanning bit depth | 24-bit |
| Connection | USB 2.0 |
| Paper sizes | letter, legal |
| Cost to replace ink/toner | $37 ($16 for black, $21 for tri-color) |
| Weight (in pounds) | 12.5 |
| Dimensions (width x height x depth, in inches) | 9 x 19.4 x 15.2 |
| Paper capacity | 100 |
| Special features | Scanner, copier, memory card slots, preview LCD |
Macworld's buying advice
If you're looking for an affordable multifunction ink-jet printer that can produce great looking photos as well as laser-sharp text, the Canon Pixma MP480, with its dust-resistant design and high-quality scans and copies, is hard to beat.
[James Galbraith is Macworld's lab director.]