At a Glance
Expert's Rating
Pros
Easy to expand
Automatically protects data from drive failure
Supports both USB 2.0 and FireWire 800
Cons
Usable capacity considerably less than installed-drive capacity
Slower than expected
Our Verdict
When the original USB Drobo was released, it made a big splash, and even earned an Editors' Choice Award. The sturdy little black box that quickly and efficiently organizes your hard drives to give you a continuous large pool of storage struck a chord. Now, the Drobo with FireWire 800 promises to do everything its predecessor promised, but faster. The Drobo is an easy-to-use device for anyone concerned about hard-drive failure and storage space. The device also works well for Time Machine backups, archiving, or storing large music, video, or picture collections.
The Drobo uses a simplified RAID (Redundant Array of Inexpensive Disks) technology to protect against drive failure. The device has slots for up to four Serial ATA (SATA) hard drives. Unlike with other RAID systems, the capacities of the drives do not have to match. Just plug in any four SATA drives, and Drobo will automatically set them up into what appears to you as a single, large volume on your desktop. Drobo performs data redundancy that allows you to upgrade a drive or install a replacement drive effortlessly.
An easy-to-understand light system (green, yellow, red) tells you the status of each drive, while a blue LED display tells you in 10 percent increments how much storage space the Drobo has left. If you start to run out of space, you can simply pull out your lowest-capacity drive and replace it with a larger capacity disk. Drobo will recognize the increased storage capacity on-the-fly and start rebuilding your volume in the background while you continue to have access to your data. Likewise, if a drive were to fail, you can swap in a new drive without losing any data.
Data Robotics sells the Drobo either without drives or prepopulated with drives of your specification. You can take whatever extra SATA drives you may have lying around gathering dust and add them to your Drobo to increase your total storage capacity. To find out how much usable storage you may already have on hand, I recommend checking out Drobo.com. The site has a nifty calculator to show you how much space you'll have with prospective drives, taking into account the "memory tax" you'll encounter with any drive. For example, four 1TB drives will actually only have about 2.7TB of usable storage. The Drobo has a smaller memory tax than a mirrored RAID level 1 system, and you'd end up with more total storage if you took your drives and simply set them up as a bunch of disks (JBOD). Still, since the Drobo is meant to serve as a hub for multiple hard drives, the memory tax isn't a big problem, as long as you budget for it ahead of time.
Setting up the Drobo is a breeze thanks to an easy-to-read setup card that comes with the box. As with all desktop drives, the Drobo requires external power, though as an energy savings measure it will enter into a low-power state when idle. The Drobo requires no tools and the drives require no cables to be installed. Unfortunately, the Finder will always display the array as having 2TB of free space, even if you have two 500GB hard drives installed. To get an accurate reading of how much space you have, you'll need to use Drobo's included utility. We set up the Drobo with three drives: two Seagate 7200.11 500GB drives supplied by Data Robotics and a Maxtor DiamondMax 160GB drive that we had in the lab.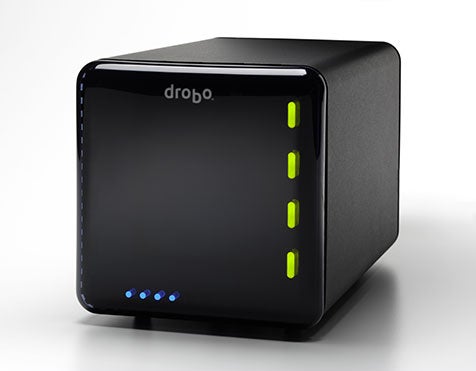 One of the initial disappointments with the first-generation Drobo was that, although you can fill the slots with speedy SATA drives, the Drobo will ultimately be limited by the sluggish performance of the USB connection. The new Drobo FireWire offers both USB 2.0 and FireWire 800 connection options (Data Robotics offers a Belkin FireWire 800 to FireWire 400 cable for $14 if your Mac has only a FireWire 400), offering more versatility and speed than the previous model. But while the new Drobo is faster, its test results were less impressive than we'd hoped.
Our lab tests proved that the Drobo with FireWire 800 is faster than the original USB Drobo, performing more than 30 percent faster in some tests. The new Drobo finished our low-memory Photoshop test a full minute faster than the original Drobo, and beat the original Drobo's duplication test time by 16 percent. In our copy tests, the new Drobo performed 25 percent better. The new Drobo's Copy to our Mac Pro test was only about nine seconds faster than the original Drobo, a 15 percent improvement. Still, when the original Drobo and the Drobo with FireWire 800 were each released, each was priced at $499. To have this much more speed for essentially the same cost is a solid deal.
Macworld's buying advice
While the Drobo isn't the fastest unit out there, its ability to allow users to effortlessly administer multiple external hard drives makes it handy for people with large storage needs. It's faster and more flexible than the previous model, and if you're someone who has such high demands on memory as to require a machine to organize your drives, you'll likely need any speed upgrade you can get.
[Chris Holt is a Macworld assistant editor.]