Typically a first look at a newly-updated product starts out with phrases like, "the long awaited" or "the much anticipated." Not so with Photoshop CS4. The truth is that latest version of Photoshop will hit the streets practically on the heels of Photoshop CS3, its predecessor which debuted a little less than 18 months ago.
What kind of features could Photoshop CS4 have now that it didn't have slightly over a year ago? As it turns out, the Photoshop product managers have barely slept since herding CS3 out the door and the answer is, "Quite a lot, thank you." Photoshop CS4 sports an overhauled workspace, OpenGL features like a rotating canvas, new panels for Masks and Adjustments, on-image controls for some adjustments (a la Photoshop LightRoom), a 3-D engine, and that's just for starters.
Here's what to expect from the latest version of Photoshop when CS4 ships in October.
Workspace overhaul
In an attempt to significantly streamline your work environment and lessen window clutter, the new Application Frame was born. It confines all things Photoshop to a single resizable and movable window. You can grab the whole mess—documents and all—and move it to the side of your screen (or better yet, to another monitor) so it's out of the way. If you open more than one document, they're displayed in tabs (just like in Safari).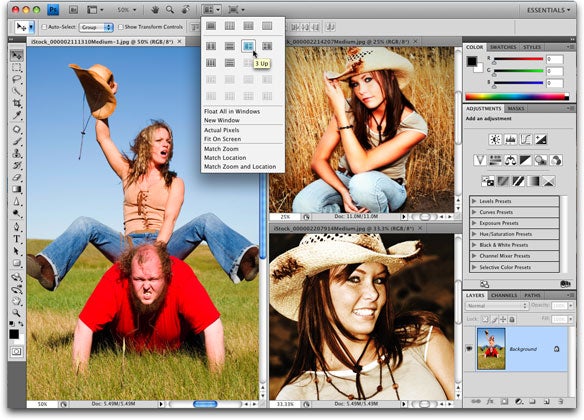 At the very top of the frame, you'll notice a new row of tools called the Application Bar. Here you've got one-click access to handy stuff like Extras (grids, rulers, guides), zoom percentages, and more. The real gems, though, are the new Rotate Canvas and Arrange Documents menus. Rotate Canvas will make tablet users squeal with delight because it creates a more natural way to paint or draw. The Arrange Documents menu lets you view several open documents side by side, which is handy for before/after evaluations or just managing a bunch of open windows.
New masks and adjustments panels
With Photoshop CS4, palettes are out and panels are in. In an effort to reduce dialog box clutter, adjustments like Levels, Curves, Hue/Saturation, and so forth now happen in a single Adjustments panel, meaning dialog boxes will no longer litter your screen. The new Masks panel is a little more exciting because it lets you feather masks on the fly (nondestructively) and control their density, which lets you make them partially see-through. (Why it's not called opacity is a mystery.)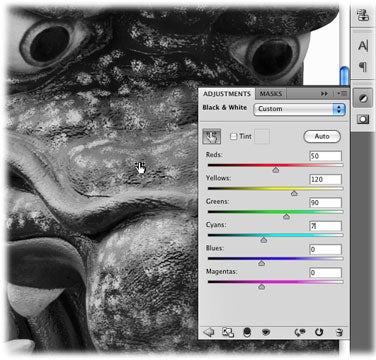 Also new are "on-image" adjustments for Curves, Black & White, and Hue/Saturation adjustment layers. Instead of making a selection, you can apply the adjustment to a specific tonal range by clicking on the image itself and dragging up or down with your mouse.
Extended exclusives
If you pop for the $999 Extended version, you'll notice a couple of new tools gracing your Tools panel called 3D Rotate and 3D Orbit, as well as a new menu stuffed full of commands like New Mesh from Grayscale, Invert Visible Surfaces, and Create UV Overlays.
With CS4, Adobe has stepped rather firmly into the realm of 3-D modeling, giving you the ability to convert 2-D into 3-D, along with a fair amount of control over object textures and lighting. You can even paint directly on the surface geometry of a model in real-time and open models downloaded from Google right there in Photoshop. Adobe also added a reparameterize command that can quickly rebuild the surface geometry of your 3-D object for smoother painting.
If you're a video editor, you may appreciate Extended's single-letter keyboard shortcuts, smooth display of no-square pixels, and the ability to preview and export audio.
Other features
Among the other enhancements are smoother screen display at odd zoom levels, the ability to "toss" your pixels with the spacebar, a bird's eye view quick-zoom, a new Vibrance adjustment layer (straight from Camera Raw), spring-loaded tools allowing you to temporarily switch from one tool to another, a pixel-grid view above 600-percent zoom, linked masks for Smart Objects, drag-resizing for brush cursors, and the ability the delete layers by pressing the Delete key. (You can't believe how handy that latter feature is!).
Camera Raw 5 also has major improvements like the ability to edit selectively using an Adjustments Brush or Gradient Filter. Adobe Bridge wasn't left out either and now boosts faster performance, one-click previews, Spotlight integration, a super handy path bar (like a trail of breadcrumbs), and more.
First impressions
Are these big changes? You betcha. Will they take some getting used to? Heck yes. Will you like them? For the most part, the answer is a resounding yes. We'll have the definitive answer when we review the shipping version next month.
[Lesa Snider King, founder of GraphicReporter.com, is the chief evangelist of iStockphoto.com, author of Photoshop CS4: The Missing Manual (2008, Pogue Press/O'Reilly) and co-host of YourMacLifeShow.com.]