Arten Science on Tuesday announced the release of macVCR, a utility that records the activity on your Mac's screen to a QuickTime movie. It costs £12 (US$22.22).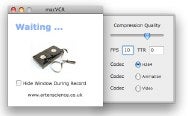 MacVCR works after you launch it — you double click the icon and it does the rest. You can specify recording length, adjust compression quality, use your choice of codecs, specify frame per second speed and more. The developer says that macVCR uses little disk space and few CPU cycles.
System requirements call for Mac OS X 10.5 or later, G4/1GHz or faster (including Intel) and 5MB hard disk space.
A trial version is available that lets you record up to 60 seconds of continuous activity.