At a Glance
Expert's Rating
Pros
Excellent still photos
Great video clarity
Smaller than most camcorders
Hot shoe for accessories
Cables included
Wide variety of shooting modes
Easy-to-use interface
Cons
Some streaking and jitter with motion video
Highest video resolution isn't currently Mac-compatible
Our Verdict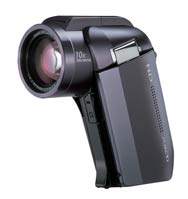 Sanyo's Xacti VPC-HD1010 is a high-definition camcorder that's much smaller than your typical HD model, making it ideal for carrying with you around town. In fact, I found the VPC-HD1010 to be an exciting little device, full of features and capable of capturing impressive videos and still photos.
When I picked up the VPC-HD1010, the first thing I noticed was its solid feel. It weighs 11 ounces with the battery, and you hold it as you would a pistol. The 2.7-inch LCD opens up and extends out like LCDs typically do on camcorders. It's interesting to note that despite the VPC-HD1010's small design, its LCD is just as large as those found on regular-sized HD camcorders like Canon's Vixia HF10 ( ).
With the camcorder in your hand, you can access all of the controls with your thumb. The ring of buttons and switches atop the VPC-HD1010 looks intimidating at first, but it's actually quite intuitive to use. The center holds two record buttons: one for video, the other for still photos. A switch on the left side of the ring controls zoom, while a switch on the right side puts the camera into playback or recording mode. A Menu button rests at the bottom of the ring, giving you access to the camera's settings. The Photo View button at the top of the ring lets you switch the field of view back and forth between photo view and movie view. Video can be shot at 16:9 or 4:3 aspect ratio, while photos are shot at 4:3. If you're shooting video at 16:9 and decide you want to take a still photo, the Photo View button changes the aspect from 16:9 to 4:3 so you can properly frame your still photo. A mini joystick is used to navigate through the camcorder's copious set of features.
The VPC-HD1010 uses SD memory cards for storage, and video is saved in the MPEG-4/H.264AVC format. A 2GB SD card can hold about 20 minutes of video shot at 1,920-by-1,080, 30 frames per second (12Mbps), the camcorder's second-highest resolution setting. You'll probably want to buy SDHC cards that are at least 4GB. Also, make sure you use SD cards that have a Class 4 speed rating; HD video is a lot of data, and a SD card that can keep up with the camcorder is imperative.
Why did I refer to the second-highest video setting in the paragraph above, instead of the best video setting? The VPC-HD1010 has a top video resolution of 1,920-by-1,080i, 60 frames per second (14Mbps)—but unfortunately, that resolution isn't currently compatible with the Mac. (Sanyo does state on the product's Web site that this resolution isn't Mac compatible.) When I dragged and dropped the files from the VPC-HD1010 to my Mac Pro's hard drive, the videos showed a green screen. I tried to import the files into iMovie '08 ( ) and Final Cut Pro ( ), where I was able to preview the files. But when it can time to actually importing the videos, the programs crashed.
Video shot at the second-highest video setting—1,920-by-1,080, 30 frames per second (12Mbps)—worked without a hitch on a Mac Pro. I was able to copy the files to the Mac and watch the videos using QuickTime. I was also able to import the videos into iMovie '08 and Final Cut Pro for editing.
To evaluate the video image quality, Macworld Lab shot an indoor scene that includes flesh tones, a Gretag Macbeth color chart, various textures, and spinning objects. The footage was shot at the camcorder's 1,920-by-1,080, 30 frames per second (12Mbps) setting, and evaluated by a panel of Macworld editors. The video quality was quite good; detail looked sharp, the lighting exposure looked even, and the clarity was stunning. However, image noise was a tad more noticeable in the VPC-HD1010's video than it was with Sony's HDR-SR11 Handycam ( ), or Canon's Vixia HF10 ( ) and Vixia HV30 ( ), though not by much. Also, our video had a slight red tint. The camcorder was able to keep moving objects in video clear, but there was some minor jitter. Our jury gave the VPC-HD1010 a rating of Very Good for video quality.
I also used the camcorder for several outdoor shoots; one day was bright and sunny, the other day was overcast. Image noise was a bit more noticeable, and the red tint was still apparent. Fast-moving objects sometimes created some minor streaking.
The still photo quality from the VPC-HD1010 is quite impressive; it's better than the still photos we've seen from most other HD camcorders, and rivals that of quality point-and-shoot digital still cameras. Colors were lively, and detail was sharp and maintained even in shadows. Our jury gave the VPC-HD1010 a rating of Very Good for still image quality.
The VPC-HD1010 has an interesting slow-motion setting that records 10 seconds at 448-by-336, 300 frames per second. When you transfer the slow-motion file to your Mac and open the file in QuickTime (the file can also be imported into iMovie or Final Cut Pro), the file is extrapolated out to a 50 second file with video at 60 frames per second. The VPC-HD1010's slow motion has better detail and clarity than a slow-motion effect applied by a video-editing program—but it's not HD, nor is it even standard-definition resolution (640 by 480). And the slow motion feature doesn't record sound, though that's not necessarily a bad thing. You can see a sample slow-motion video on my Flickr online account.
The camcorder has a ton of other helpful features. There are a total of seven available video resolutions and eight photo resolutions you can shoot at. When set to 2,288-by-1,712 photo resolution, the camcorder is capable of shooting seven sequential frames. While shooting a video, you can take a still picture, without interrupting the video. And the still camera has 10 preset shooting modes, like Portrait, Landscape, Night View, Sepia, and Monochrome. All these features worked well.
The battery lasted for two hours while shooting video. That's impressive enough to earn a Very Good rating from Macworld Lab.
Performance
| | |
| --- | --- |
| Still Image Quality | Very Good |
| Video Quality | Very Good |
| Battery Life | 2 hours |
Scale = Superior, Very Good, Good, Fair, Poor
Specifications
| | |
| --- | --- |
| LCD Size | 2.7 inches |
| Optical Zoom | 10x |
| Still image resolution | 4 Megapixel |
| Size (WxHxD) | 3.5 x 4.4 x 2.1 inches |
| Weight (ounces) | 11 |
| Video Codec | MPEG-4/H.264 AVC |
Macworld's buying advice
The Sanyo Xacti HD1010 is a charming little device. Its HD video comes close to the quality produced by full-sized consumer HD camcorders, and its still photos are good enough to replace a no-frills point-and-shoot digital still camera. If you're looking for a single camera to carry with you everywhere that's capable of both video and stills, the VPC-HD1010 is a device you should seriously consider, despite the fact that you currently can't use the camcorder's highest video setting on the Mac.
[Roman Loyola is a Macworld Senior Editor.]