At a Glance
Expert's Rating
Pros
Powerful image processing tools
Extensible via add-on modules
Cons
Looks and feels like a Windows program
Not all modules supported on Mac
Media browser did not locate files in iTunes or iPhoto directories
Our Verdict
ArcSoft MediaImpression 1.2 aims high. It wants to be your one-stop shop for managing all of your digital media—photos, videos, even music—within a single interface. You can import, browse, search, and organize your media files, as you'd expect. But MediaImpression goes further, providing features for editing photos and creating and sharing slideshows and movies. You can easily export your media, either as e-mail attachments or photo pages, and photos can be saved as either screen savers or desktop wallpaper. You can also assemble greeting cards, calendars, and photo books.
All of these features are provided via individual add-on modules, an approach that allows ArcSoft to expand the software easily over time. This modular approach also makes for some fairly specific functionality. For example, there's a module that integrates with Google Earth to geotag your photos, and another that provides a built-in media player. This gives MediaImpression an edge over applications that adhere to a strict software release schedule. Unfortunately, some modules, such as one that uploads movies to YouTube, or one that lets you order prints from online providers, aren't yet available for the Mac. The company says those features will be added by the end of the year.
MediaImpression does a good job as a media cataloger, thanks to its strong support for adding image metadata, ratings, and tags; if you've already got a lot of existing media files, though, you may find that you have to work harder than anticipated to get them into the program.
The application's ability to integrate music and images is a plus if you want to add a soundtrack to a slideshow or a movie, but its audio features are so limited that you would never use it as your primary music player. In particular, while you can tag your music and rate songs on your computer, the program doesn't work with iPods or other handheld MP3 players.
I like that the software is extensible through additional modules right from within the program (an approach that reminds me of Firefox). MediaImpression's effects produce good results and the media converter supports a variety of common formats.
First impressions
When you first launch the program, you are presented with a Start Page, which lets you view the various media types it supports. But MediaImpression doesn't default to the standard places for storing media on the Mac—the Movies, Music, and Pictures folders; instead, you are presented with the entire folder hierarchy and must navigate to the locations where your files are stored.
You can show all files or restrict your view to photos, movies, or videos. You can also import files from a mobile or storage device, or jump directly to the software's photo or movie editor. Plug in a digital camera or a memory card and you can fix red-eye and correct and add tags to your photos during the import, something I haven't seen in other software. MediaImpression attempts to find your existing media files automatically, but on my Mac, it was only able to find my movie files, a few pictures that were loose in my Pictures folder, and a handful of MP3 and WAV files. The software was unable to see music and image files stored in iTunes ( ) and iPhoto ( ) directories. Contrast this with the Mac's built-in media browser, which recognizes every media type on your computer—even GarageBand ( ) files—and presents them in a window where they can be viewed or played.
Herein lies the basic problem with this software. While I've no doubt that MediaImpression is useful on Windows, it doesn't seem to make much sense on the Mac, which already comes with an extremely capable system-wide media browser and suite of powerful asset management and editing programs. The application's Windows heritage is unmistakable. It doesn't look or act like a Mac application and it uses Windows conventions for sorting and viewing files and navigation.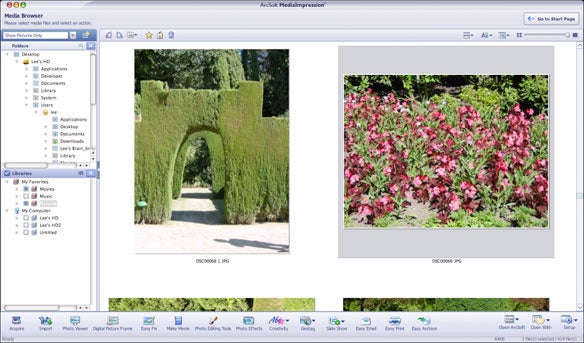 More troubling was a permissions issue—on both my Mac Pro ( ) and my MacBook Air ( )—that prevented the software from launching on my computers. The fix was a detailed and tedious removal of all of the individual components installed by the software. This did not happen on all machines, however.
Macworld's buying advice
ArcSoft MediaImpression 2.1's do-it-all approach to media asset management is indeed impressive for such an inexpensive program. As a freebie that is bundled with a number of digital cameras, it's even better. But despite a few neat tricks, such as the ability to correct red-eye on import or geotag photos, Mac users will be far better served with a combination of the Mac's built-in media browser and Apple's iLife suite for cataloging, editing, and creating multimedia presentations.
[Lee Sherman is a San Francisco-based technology writer.]