Griffin Technology is shipping an updated version of the iTrip Auto, an FM transmitter and battery charger for the iPod. It costs $59.99.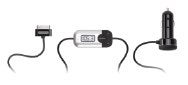 The iTrip Auto plugs into a cigarette lighter or 12 volt power outlet in your vehicle and transmits your iPod's audio to your vehicle's FM stereo receiver. It features "SmartScan" technology, which seeks out the best open FM frequencies available and locks them in — the iTrip Auto can remember up to four presets. It optimizes volume and lets you select stereo or mono modes for best audio quality.
The iTrip Auto features a large backlit LCD display that shows you what frequency the device is locked to, so you can tune it in to your auto's radio. A power switch shows you three colors to indicate charge.