Wonder Warp Software has released ShoveBox 1.5, an update to its productivity software for Mac OS X. It's free for registered users. A new license costs $24.95.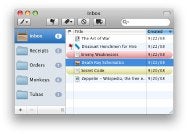 ShoveBox runs in the menubar, and it enables you to capture, process and organize incoming information — "snippets" you don't want to forget, but data you can't act on at that moment. It lets you drop data from just about any app, organize with folders, labels and flags, supports the iSight and more.
ShoveBox 1.5 adds new features and enhancements, including the ability to annotate any entry. It also adds support for global hotkeys to access frequently-used information for quick access. The user interface has also been redesigned, and search and Web archiving abilities have been improved.
System requirements call for Mac OS X 10.4 or later.