While Estonia got the iPhone 3G in the last round of country updates back in August, the other pair of Baltic countries—Latvia and Lithuania—have been left out in the cold, until now.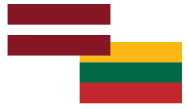 Mobile provider TeliaSonera today announced that its subsidiaries will begin sales of the iPhone 3G in the countries starting on September 26th. TeliaSonera owns a share of Latvia's largest mobile operator, Latvian Mobile Telephone (LMT), and also controls Omnitel, the largest telecommunications country in the Baltic region. Neither company has released details on the iPhone's price or available service plans.
TeliaSonera also has a hand in distributing the iPhone in a number of other countries in Europe, including Estonia, Sweden, Finland, Norway, and Denmark.