Search the App Store for the word "beer" and you're going to pull up more than a dozen apps, including a couple of games. For some reason, beer is of immense fascination to iPhone developers and users alike. Publisher X has decided to up the ante by bringing the classic drinking game of Quarters to the iPhone as well.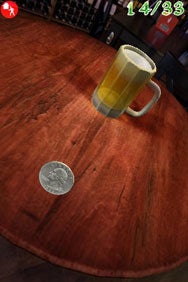 The goal of Quarters is, of course, to get drunk. Not to get yourself drunk, as much as the other people around you—though that's certainly an option. Popular around the world in pubs, taverns and on college campuses, the game of Quarters has been played for generations, and has an almost infinite number of permutations and special rules.
In this case—dubbed Beer Bounce—Publisher X has cut to the quick and come up with the simplest version: A table with two chairs and a full beer mug in the middle. You have a quarter in front of you, and the height you drop it from the table determines how far it will bounce, and how the spinning quarter lands on the table affects its direction.
If you successfully land the quarter in the beer mug, you drink. If you don't, you'll be regaled with trash talk from an invisible opponent, and a counter in the upper right corner shows you a ratio of successful shots to the number of shots you've taken.
Beer Bounce deserves credit where it's due: It has surprisingly good 3-D graphics, complete with a photorealistic background and a convincing splash of beer when your quarter lands in the mug. The trash-talk is funny (though it gets repetitive after a while). But perhaps the icing on this particular cake is that the more successful you are, the more unstable you get. The more beer you (virtually) consume, the more tipsy you get—quite literally. After two or three successfully drained pints, you'll notice that the table is seesawing from left to right, and it gets progressively worse from there.
For what it's worth, I noticed a "sweet spot" when I got two or three pints in me, where my aim improved dramatically, much like in real life, when I play pool. In Beer Bounce, it lasted until my virtual self got sloppy drunk.
The only option in the game is to switch among nine currencies—you can trade your quarter for a 50 centime piece or a loonie or a pound coin. Sad to say that this modifies neither the setting nor the trash-talk, however.
At $1.99, Beer Bounce is a well-crafted novelty, though it's not a very challenging game. It's also become a surprisingly effective way for me to convince people who have never held an iPhone that you can play games on it instantly—intuitive controls and familiar game play make it simple and fun.
Beer Bounce is compatible with any iPhone or iPod touch running the iPhone 2.x software update.
[Senior editor Peter Cohen covers games for Macworld's Game Room.]