At a Glance
Expert's Rating
Pros
Solidly build
Attractive
Detachable numeric keypad helps travelers
Cons
Poorly designed case makes using the spacebar painful
Two of five hot keys are Windows-only
Included software is not functional
Pricey
No keyboard tilt adjustment
Our Verdict
The Kensington SlimBlade Media Notebook Set is inarguably a stylish group of wireless input devices. Its three-piece matching keyboard, numeric keypad, and scroll-ball mouse would be sleek and attractive additions to any desk. Unfortunately, stylish does not necessarily mean well designed—and in this case, form forgot to follow function.
After you manage to free this set from its difficult-to-open and unnecessarily wasteful packaging—and if your fingers aren't bleeding from the sharp plastic—it's a simple matter to insert the included six AA batteries into the devices, two per unit. Simple, that is, after you've struggled to open the mouse's tight-lidded battery compartment.
After battery insertion, the manual instructs you to install the SlimBlade Driver, supplied on an included CD. Don't bother. As I ran the installer, it informed me that it was installing the SlimBlade Media Preferences Pane; after installation, however, no such pane appeared in System Preferences. A bit of digging through the CD's Read Me file revealed why: The SlimBlade Driver is needed for Kensington's SlimBlade Media Mouse ( ) and the SlimBlade Bluetooth Presenter Mouse ( , but the Media Notebook Set's mouse doesn't feature the audio controls on its belly as do those two, and it's those controls that supposedly require the driver. Perhaps the SlimBlade Driver is needed if you purchase the Media Notebook Set's optional ($20) SlimBlade Media Remote module, but nowhere in the manual, in the Read Me file, or on Kensington's Web site is that question answered.
The keyboard has five hot keys in a line on its upper right. Not truly keys, per se, they're U-shaped cutouts in the plastic keyboard case that allow the resulting tab to depress when you press it. You won't be pressing these keys very much, however, considering that two of them—which launch backup software and a media player—work only on Windows machines. The other three launch Spotlight and Dashboard and eject optical disks, and work fine—although they work equally well whether or not the SlimBlade Driver is installed.
The mouse's scroll ball also works the same with or without the driver installed and responds to changes in Scrolling Speed settings in the Keyboard & Mouse Preference pane. Unlike Apple's Mighty Mouse, the scroll ball doesn't also function as a button; two buttons are all you get. The ambidextrous mouse does have a nice weight (4.23 oz.) and feel to it, and comfortable textured rubber bumpers on its right and left.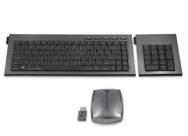 The numeric keypad (as is also true of the optional Media Remote mentioned above) can be attached to either side of the keyboard. The keypad is a rather standard affair, with one puzzling omission: no Equals key, which forces high-speed Excel and Numbers crunchers to wander over to the main keyboard before they can enter a formula. Annoying.
These minor niggles would be more forgivable if the keyboard were a dream to type on. It's not. Although its keys have decent response and an acceptable amount of key-travel distance, the entire lower row is set too deeply into the keyboard case. As a result, every time my thumb hit the spacebar, it also hit the sharp and shiny inner edge of the keyboard case. After only a few hundred words, my poor thumb was complaining loudly.
Two other ergonomic no-nos: There's no way to adjust the tilt of the keyboard and numeric keypad, and the icons labeling the hot keys are exceptionally hard to read, especially when they're viewed at exactly the angle from which you'll search for them while typing.
Macworld's buying advice
Kensington's SlimBlade Media Notebook Set may be pretty and portable, but its limited features and painful typing layout make it hard to recommend. At $130, it's simply not worth the money; shop elsewhere.
[Rik Myslewski has been writing about the Mac since 1989. He has been editor in chief of MacAddict (now Mac|Life), executive editor of MacUser and director of MacUser Labs, and executive producer of Macworld Live. His blog can be found at Myslewski.com.]