Digital Praise, makers of the Dance Praise rhythm dance game series, on Thursday announced the release of Guitar Praise — a similarly-designed game created to appeal to young people looking for a Guitar Hero-style game for their Mac or PC. It costs $99.95 and is expected to hit stores on September 25, 2008.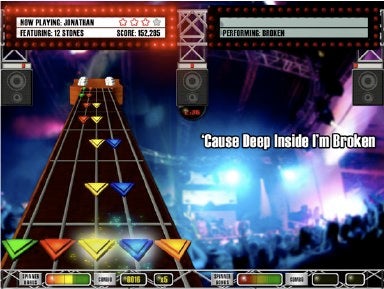 Guitar Praise ships with a wireless guitar controller that connect using a USB transmitter. What makes the game different from Guitar Hero is the soundtrack: Guitar Praise focuses on contemporary Christian rock, instead of pop and heavy metal songs.
Players have access to four levels of play per song, and two players can play on the same computer at once, in a "Power Duel Mode." Players earn Talent Points towards new onscreen guitars, get access to powerups and more.
Guitar Praise includes 52 Christian rock songs from the original artists. Popular artists represented in Guitar Praise include tobyMac, Relient K, Flyleaf and more.
System requirements call for Mac OS X 10.3 or later, 1GHz or faster processor, 650MB hard disk space, 512MB RAM and an available USB port.