Toy Bot Diaries developer Iugo Mobile Entertainment has announced the release of Shaky Summit, a new game for the iPhone and iPod touch. It's available for purchase and download from the App Store for $4.99.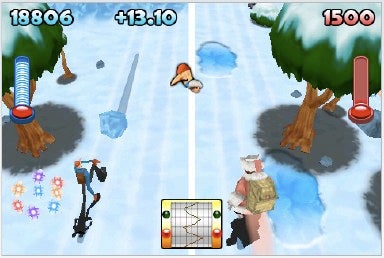 Shaky Summit lets you scale mountains as you dodge pitfalls like rolling boulders, ice patches, cave floods and volcanic firestorms on your ascent. You can touch the Stamina Bar to get a boost of speed and even shake the mountain to reach the peak before your opponent.
The game features ten different climbs and a multiplayer mode that lets you play against another gamer on the same device. There are three levels of difficulty, three different characters to choose from, each with unique abilities, randomly-generated obstacles, so each climb is different, and a mystery character and four alternate costumes to unlock.
Shaky Summit requires an iPhone or iPod touch running iPhone 2.1 software.