Suppose you are, as the Rolling Stones put it in one of their lesser-known works, a lonesome schoolboy who just came into town. Where can you get your face stuffed? Where can you get your car buffed? You may have no money, but if you use Places, you should have a pretty good idea where to put it every time.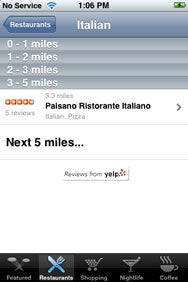 Places is a clever, free application for the iPhone and iPod Touch that exploits the devices' locator feature to find nearby businesses, restaurants, bars and shops. The interface is straightforward. When you launch the app, there appears a list of featured restaurants within a mile of your current location. If no results display, you simply tap "No Results" and Places will show restaurants within two miles. Places lets you expand your search five miles, 10 miles and beyond.
Once you've found what you think you want, simply tap on the business name and Places pops up a new screen with the phone number and address, as well as reviews from Yelp.com (which also has its own iPhone app, incidentally). You can also tap a button for directions to and from the location.
Perhaps because Places is free, the app is not a comprehensive search tool. Matter of fact, it yields some weird results. I tested it from my kitchen table. I live just south of the middle of nowhere in the Inland Empire region of Southern California. Despite the exurban character of my neighborhood, I am blessed with no fewer than nine Starbucks stores within a five-mile radius of my house. Places has only the vaguest idea that Starbucks is a ubiquitous coffee chain.
Hey, that's fine. That must mean Places puts special emphasis on independently operated stores and restaurants, right? Well, no, not exactly. Places pops up with all manner of chains and misses lots and lots of local fare. Big Mark's Barbeque in Rialto, one of the finest rib and chicken joints east of Interstate 15, sits a few miles down the road from me. Places doesn't know it exists.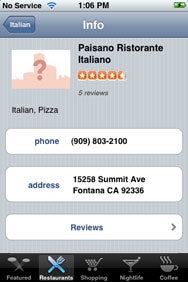 What Places doesn't know, I'm afraid, would fill the Library of Congress three times over. But Places did come up with a dozen or so other decent dining options nearby. If I really were a stranger in town, Places would steer me right… eventually.
A couple of other drawbacks with Places: First, the search can be a bit temperamental. Touch "No results" and sometimes the expanded search snaps back to where you began at "0-1 miles." And sometimes the app will just shut down on you, like a haughty French maitre'd. Second, Places won't let you save favorites, but it will let you add contacts to your address book. Whether you want to clutter your address book with one-stop locales is entirely up to you.
But, again, Places is a free app so it's hard to complain too much. As long as you remain aware of the limitations, and you aren't too picky, then Places makes for a convenient and useful tool for the traveler.
Places is compatible with any iPhone or iPod touch running the iPhone 2.x software update.
[Ben Boychuk is a writer and columnist in Rialto, Calif. He sleeps well knowing he lives just 7.3 miles from the nearest Bass Pro Shops.]