For the past week or so, I'd been having a problem where I couldn't update my iPhone apps from within iTunes. In the Applications screen, if I clicked on the [#] Updates Available link at the bottom of the window, I'd get an "unknown error" number 5002. (You know, 5002 is a very specific number for an "unknown" error. But I digress.)
I would try again later, as instructed—many times, in fact—to no avail. Even more frustrating was that iTunes continued to keep track of how many apps needed updating. It started with five, then increased to 12, then to 18…until earlier today it said I had 26 updates available. All out of virtual reach.

I'd tried to fix the problem by relaunching iTunes, logging out of and then back in to my iTunes account, and more, but nothing worked. Apple's Support site provided no solutions.
Finally I turned to the Web in general. A Google search turned up plenty of reports of the same error, which, for those affected, apparently pops up in either of two situations: when clicking on the Updates Available link, as it did for me; or, for those not using 1-Click purchasing, when accessing the iTunes shopping cart. Also, the issue seems to be limited to iTunes 8.
Thankfully, I also found, in an Apple Discussions thread, a solution that worked for me:
If you've got apps in your library, delete any that have just a black icon. This should solve the 5002 error and then you can download the deleted apps again for free.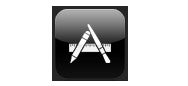 Sure enough, when I viewed the Applications screen in iTunes, I had five applications with a generic icon (shown to the right). I wrote down the names of the "generic" apps and then deleted each of them, choosing to move the app to the Trash if asked. Then I switched to the iTunes Store and repurchased each. (When you repurchase an app, iTunes doesn't actually charge you; you get to download it again for free.)
After performing this procedure, clicking on the [#] Updates Available link in iTunes worked as expected—no more 5002 error. I was able to view the list of apps needing updating and then download the updated versions.