At a Glance
Expert's Rating
Our Verdict
Earlier this week, I told you about an inexpensive accessory for making Apple's stock earbuds more comfortable and secure. To continue on that theme, today's Gem is an accessory for enhancing many third-party headphones.
A popular audio upgrade for the iPod or iPhone is a set of in-ear-canal headphones: ones that fit inside your ear canals (thus the nickname canalphones), much like earplugs. Because they seal out external noise, these headphones let you enjoy your music at lower volumes than traditional headphones and earbuds. In addition, most true in-ear-canal headphones come from vendors that focus on sound quality; good ones can be pricey, but they also provide great sound quality.
But one drawback to canalphones is comfort. As we explained in our primer on in-ear-canal headphones:
Because you're sticking in-ear-canal headphones down into your ear canals, and using eartips designed to press tightly enough against the walls of your ear canals to get a good seal, canalphones can feel quite uncomfortable when you first start using them…In order to make it easier to get a comfortable fit, most canalphones include a selection of eartips—the actual "plug"" that covers the headphone-driver enclosure and that sticks in your ear…It's common for this selection to include several sizes of silicone/rubber tips, each of which usually features two or three ridges or flanges, as well as a set of one-size-fits-all foam tips which expand to fit whichever ears they find themselves in.
I noted in that same article that I find it easier to get a good seal with foam tips, since the foam expands to fit your ear canals. But for many people, comfort is an even bigger issue with foam tips than silicone: the foam tips that ship with most canalphones tend to be made of a stiff, scratchy material.
A great alternative is Comply's Comply Foam Tips, which I've found to be much more comfortable, and easier to get a good seal with, than the stock tips provided by most headphone vendors. A few canalphone vendors, including Ultimate Ears, have even started including Comply Foam Tips with some of their models.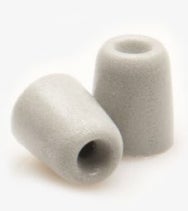 The reason Comply's tips are better is the material. The company describes that material as "viscoelastic polyurethane foam technology" that's breathable and softens with body heat. Whatever the marketing blurbiage, I'm a fan. Like other foam tips, after installing them on your canalphones, you roll the tips between your fingers to compress them and then insert your canalphones into your ear canals; the tips then expand to fit, sealing out external noise. But in my ears, the Comply tips are much more comfortable—much softer and less scratchy—than stock foam and silicone tips. And because they're more pliable than stiff foam, I'm able to get a better seal. (On the other hand, I've heard from a few users that the Comply tips aren't quite thick enough for those with larger-than-average ear canals.)
Comply makes four Foam Tips models designed for in-ear-canal headphones: the T-100, T-200, T-400, and P Series; each works with specific headphone models. To help you figure out which ones to buy, the main Web page for the Foam Tips provides a product selector: just choose the brand of your headphones, and then the model, and you'll see which tips fit.
Comply Foam Tips are $15 to $18 for three pairs, or $20 to $23 for five pairs, depending on the model. (Why would you buy multiple pairs? Like all foam tips, the Comply versions will wear out over time.) This is only a bit more than you'd pay for "official" foam tips from each canalphone vendor; most sell replacements for $15 for five pairs. And consider the context: If you've already spent $100, $200, or even $500 for good in-ear-canal headphones, another $15 to $23 seems reasonable to get the most out of them.