Rejoice, for the iPhone 3G comes at last to the motherland next week. One of the last remaining major countries in the world, Russia has long been home to numerous gray market sales of the device, but on October 3rd, the iPhone 3G will be available legitimately.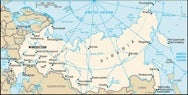 Earlier this year, Apple struck deals with three major Russian carriers: MTS, MegaFon, and VimpelCom. Now, according to a Reuters report, all three operators will begin selling the iPhone sometime in the night between October 2nd and October 3rd (sounds secretive). The phone will also be sold at several of the country's major electronics chains: Tekhnosila, Eldorado, and M.video.
The going price for the phones aren't cheap—without a contract anyway. The operators and retailers will sell the 8GB phone for 22,999 rubles (~$921) and the 16GB model for 26,999 rubles (~$1081). Information about subscription plans is still forthcoming.
The deal with Russia means that China remains the only major country not to have an iPhone deal in place.