At a Glance
Expert's Rating
Pros
Fast
Sleek design
USB 2.0 and FireWire 800 ports
Cons
LED light does not denote activity
Our Verdict
Seagate's FreeAgent Desk for Mac 1TB FireWire 800 external hard drive is designed to be a stylish storage solution for your desktop. Time Machine-ready and formatted for the Mac right out of the box, it's ideal for backing up files, storing photos, or providing more storage space when your internal drive fills up.
While many drives ship formatted for Windows and need to be reformatted by the user for optimal performance on a Mac, the FreeAgent Desk drives are Mac-formatted out of the box. The FreeAgent Desk is available in 500GB, 1TB (tested), and 1.5TB capacities. Seagate also offers a portable FreeAgent Go that has the convenience of a compact drive and the ability to run without external power, but tops out at 250GB and provides slower performance than the FreeAgent Desk.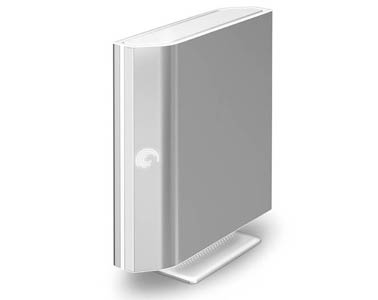 Designed to complement Apple's aluminum design, the FreeAgent Desk looks like it fits right in on your desktop. In the back are multiple ports, including one for USB 2.0 and two for FireWire 800. The FreeAgent Desk also includes a FireWire 800-to-FireWire 400 cable, so you can connect to a FireWire 400 port on your Mac-a nice bonus. An LED indicates when the FreeAgent Desk is on, but doesn't blink to denote drive activity.
The FreeAgent Desk drive turned in respectable scores in our time trial tests. It got through the 1GB copy test in a speedy 36 seconds-about 13 percent faster than its portable 250GB FreeAgent Go cousin, but about 4 seconds slower than Western Digital's My Book Studio Edition ( ). The FreeAgent Desk's FireWire 800 duplication and low-memory Photoshop tests came in at 48 seconds and 1 minute and 13 seconds, respectively, putting them on par with other hard drives we've tested. When using the FireWire 800-to-400 adapter cable, our duplication test came in 36 percent slower than the FireWire 800 results, and the copy test finished 20 percent slower-a significant drop, but not out of line with FireWire 400 test results from other drives we've reviewed.
Timed trials
| | |
| --- | --- |
| Copy 1GB file to USB 2.0 | 0:51 |
| Copy 1GB file to FireWire 400 | 0:47 |
| Copy 1GB file to FireWire 800 | 0:36 |
| Duplicate 1GB file via USB 2.0 | 1:23 |
| Duplicate 1GB file via FireWire 400 | 1:14 |
| Duplicate 1GB file via FireWire 800 | 0:48 |
| Low-memory Photoshop: USB 2.0 | 1:28 |
| Low-memory Photoshop: FireWire 400 | 1:23 |
| Low-memory Photoshop: FireWire 800 | 1:13 |
Times are in minutes:seconds
Macworld's buying advice
With a five-year limited warranty and both USB and FireWire support, the FreeAgent Desk is an attractive option for storage-seeking users. Thanks to the FireWire 800 connection speed, the FreeAgent Desk is a respectably fast external drive. Seagate has produced a fast, competitively priced, and Mac-centric external drive that should satisfy your storage needs.
[Chris Holt is a Macworld assistant editor.]