We publish a lot of stories each day at Macworld.com—usually in the neighborhood of 20, give or take a review or two. If you're a Mac news junkie, you want to stay on top of all the headlines, but you can't just sit in front of your Web browser all day reloading Macworld's Browse All Stories view repeatedly. (Though if you really want to, who am I to dissuade you? Refresh, away!)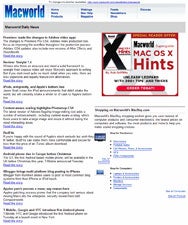 If you're looking to strike a balance between comprehensive coverage and convenience, then Macworld's Daily News newsletter may be just what you're looking for.
Each day, Macworld Daily News will arrive in your inbox with the latest headlines posted at Macworld.com. The newsletter gives you a summary of each story plus a link, so that you can click on the articles that matter to you. It's all the convenience of having headlines delivered directly to you, without having to mess around with RSS feeds.
You can subscribe to the daily newsletter—along with our seven other newsletters that offer everything from iPhone-specific headlines to OS X Hints—at our newsletter page. (The page also features links for managing your newsletter subscriptions, changing your preferences, and whitelisting any Macworld mailings.)