Busy people fall easily into the e-mail trap. Answering routine correspondence is a time leech. Seconds become minutes, minutes become hours. Productivity? Good grief, it's amazing anything gets done in this country anymore.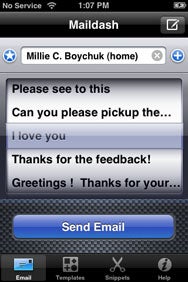 The smarter busy people have strategies for managing their time well. They set fairly rigid schedules for handling their correspondence. They don't check their e-mail every five minutes. And if they're lucky, they can fob off replies to an intern or a secretary.
For those of us without personal assistants and in desperate need of better time management skills, there is Maildash.
Maildash (previously known as Mailgram) is, essentially, an e-mail macro-maker and auto-reply generator for the iPhone and iPod touch. The interface is yet another scrolling-dial, listing common e-mail replies or queries such as "Lunch tomorrow?" or "Call me back at the office." It's a clever conceit, undermined by a couple of annoying bugs.
Here's how Maildash works. Simply select an address from your address book or Maildash's list of favorites, select a message from the scroll-dial list, and click the "send e-mail" button. The message is sent from Mail and you return automatically to your inbox.
Replying to e-mail with Maildash should be easier than it is. In theory, all you need to do to reply to an e-mail is hit "reply," press the Home button, launch Maildash, select a message, and hit send. The problem is, Maildash always creates a new message rather than inserting text into the reply. So instead of a quick and seamless reply to an e-mail, you end up either sending a new message unconnected to the note you're answering or you take the time to re-type the subject header. And where is the convenience in that?
But Maildash really does save time, assuming you aren't interested in replying directly to an e-mail. Why tap out "Sorry I missed your call. I'll call you later," or "I'll be home late," or even "Have I told you lately that I love you?" when you can press a couple of buttons in two blinks of an eye? After a few weeks, the time you save replying to routine e-mail should be worth the price of a latte.
Maildash also lets users create or customize their own templates. The old version of this feature on Mailgram was a buggy mess, causing the app to crash every time I tried to create a new message or modify an existing template. The developers seem to have fixed this problem in a recent update. Maildash also performs mail-merge-like functions, such as automatically inserting first names and addresses, or changing salutations depending on the time of day.
Maildash serves as an imperfect solution to an ever-nagging problem. Assuming the developers can get the reply function right, Maildash has ample long-term potential to become a must-have utility for time-management obsessives.
Maildash is compatible with any iPhone or iPod touch running the iPhone 2.0 software update.
[Ben Boychuk is a writer and columnist in Rialto, Calif. He used to have an intern, but not anymore.]