At a Glance
Expert's Rating
Pros
Distraction-free full-screen mode
Appealing, easy-to-use interface
New timeline view
Powerful metadata tagging and filtering capabilities
Cons
Printing character and story notes can be cumbersome
Lacks global find-and-replace
Our Verdict
Some tasks seem impossible in their scale. Climbing Everest. Running a marathon. Writing a novel. Thanks to Mariner Software's StoryMill 3.1, aspiring authors need not be intimidated any longer. In breaking up this daunting task by focusing on scenes—the individual building blocks of fiction—and providing a framework for capturing all of a writer's research, ideas, and pages in a single document, StoryMill's hybrid word processor/database approach gives today's newbie novelist a significant leg up. Just add talent, dedication, and insight into the human spirit.
When most people think of a novel, they think of a pocket paperback, not the thousands of sticky notes, index cards, and legal pad–scribblings that fill the shoeboxes that fill the shelves that fill their authors' closets. StoryMill (called Avenir, prior to version 3.0) provides the structure for not only capturing all these musings, but for linking them together and building upon them until they crystallize into a story.
In a word processing application, your novel might typically appear as several hundred pages of continuous text–unwieldy, slow to repaginate, and tough to navigate. StoryMill approaches your novel as a collection of hundreds of discrete scenes. In turn, these scenes can be grouped into chapters, tagged with annotations, reordered, and filtered. The result is a very nimble program with powerful features hidden behind a clean and easy-to-use interface.
StoryMill's "smart views" largely eliminate the need to rifle through reams of pages or screen-scroll for what seems like forever during rewriting. Instead, you can instantly filter and display scenes, by character, location, and even draft status. But the real power comes with clever use of author-assigned metadata tags that enable you to create a smart view that will display literally whatever you want.
The most exciting addition to StoryMill 3.1 is the Timeline tool. Novelists have always enjoyed playing with time, bouncing back and forth from past to present, story line A to story line Z. If your plots tend toward the tangled, you'll love the timeline feature, which enables you to manipulate your story lines in chronological order, regardless of the order in which the narrative is revealed to the reader.
Another long-awaited feature is the ability to import .rtf and Microsoft Word (.doc) documents, a capability whose absence may have turned people off to previous versions of the software. On import, the program does an admirable job at recognizing chapter breaks, as demonstrated by a quick import of Charles Dickens's Great Expectations. Why is this important? To take advantage of some of StoryMill's more powerful nonlinear features, you really need to divide your novel into its constituent chunks.
If it's bells and whistles that put a smile on your face, StoryMill 3.1 won't disappoint. For me, writing is like exercise; it feels good when I finish, but I can never finish soon enough. StoryMill's Progress Meter lets me set a per-session word count goal, and shows me how much longer I need to slug it out at the keyboard before I can slug it out at the corner bar Bukowski-style. In addition, StoryMill's full-screen mode helps those of us with electronic ADD focus on getting ideas on the page by hiding the game icons and Web shortcuts that are far too tempting to click when the words aren't coming.
During my evaluation, I found StoryMill 3.1 to be both stable and speedy. In addition, Mariner Software's customer service was prompt and helpful, and seemed receptive to user suggestions for future improvements, of which I have two.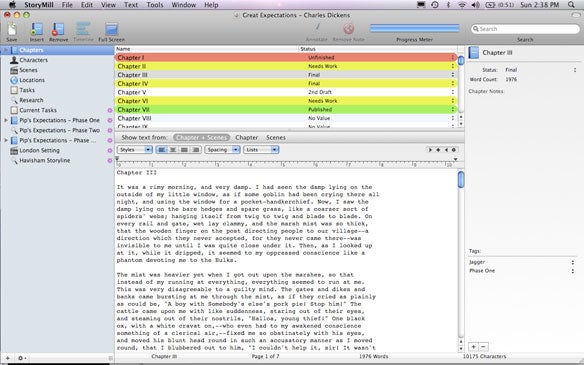 Though I always write on my trusty iBook, the tree-murderer in me still clings to printed pages for reading, sharing, and editing. That's why I found it a bit irksome not to be able to directly print, for example, character notes. Instead you must export the view first as a text file, which you can then print from your favorite text editor or word processor. Sure, it works, but it's a tad cumbersome. Likewise, some will find themselves frustrated by the lack of a project-wide find-and-replace capability. Mariner Software is aware of both issues and plans to address them in future upgrades.
Macworld's buying advice
StoryMill 3.1 provides an impressive workflow approach and toolset that can't be replicated in your current word processor. For former Avenir users, the timeline feature alone is worth the cost of upgrade. If you're willing to learn and make full use of Mariner Software's nonlinear database-type approach to structuring and filtering your research, writing, and rewriting, your initial investment will pay big dividends. Of course, John Steinbeck and Kurt Vonnegut never needed specialized software to write the Great American Novel. But if you're the sort who prefers plotting in a MacBook to jotting in a notebook, odds are StoryMill could prove a real asset in getting your 100,000-word opus onto the printed page.
[Tim Haddock is a writer and corporate communications professional living in Vermont.]