Given my profession (and avocation), I go through Macs relatively regularly—typically, the hardware lasts two to three years in my hands before being passed on to a family member for additional use. Over the years, though, there's actually one Mac model that's never made an appearance in my home: an iMac of any sort. All that changed last week, however, when we invested in (sounds better than "spent a bunch of money on") a new 20-inch iMac. This machine will be our family workhorse—acting as the kids' educational/gaming machine, holding our music and photo collection, and handling everything from budgeting to holiday card preparation to the occasional Final Cut Express project.
As noted, most of my old machines go to relatives when I upgrade. But sometimes, I find myself with a "leftover" Mac (or the occasional PC), and I then try to find ways to get rid of it while keeping it out of the local landfill. If you'd like to put your old machine to use, of course, there are many ways to do so. But what if you want to do the environmentally responsible thing and recycle your old Mac? Or if your new Mac is your first Mac, you may want to recycle your now-useless PC or Linux machine.
The best choice relative to recycling is to find someone who can put your Mac to use locally. By reusing equipment locally, your old gear will go to a good use, and it won't have to be shipped somewhere to be recycled. The way I find local companies who reuse older computers is via a Google search: Computer recycling your_city, where your_city is, obviously, the name the city where you live (or the nearest large city). Running this search for Portland, Oregon, I found a number of good candidates for used computer gear. Note that a number of these programs will require a small payment, or ask for a donation, to cover their expenses.
But what if you live in the middle of nowhere, or have gear that's so old and decrepit that the local outfits simply look at you with distaste? In that case, you may want to take advantage of recycling programs offered by the manufacturer of your new computer. Knowing that Apple has been making environmental progress since my last new Mac purchase roughly two years ago, I was curious about what recycling options the company now offered. (When I last bought a new Mac, if Apple had any sort of recycling program, it wasn't promoted at the time.) While not as ideal as local reuse, recycling at a centralized location is still better than tossing your gear in a landfill.
When I opened the iMac at home, I was disappointed to not find any information on recycling—there wasn't an insert that discussed recycling, nor could I find much at all in the printed documentation. The only mention about the environment in any of the included literature was a one-sentence summary of Apple's recognition of its environmental obligations, and the URL for the Apple and the Environment section of the company's Web site. I also checked for a Read Me on the drive—thinking perhaps Apple was saving paper—and in the Mac's help files, but I couldn't find anything in either of those spots.
So I headed to the above-linked page, and eventually found (on the Recycling page) a link to the details behind Apple's program for recycling old equipment with the purchase of a new Mac. So the good news is that Apple does, indeed, have such a program—and in reading about it, it turns out it should have been more obvious to me than it actually was. As described by Apple, when I purchased my new machine at the local Apple Store (the program is only offered via Apple's retail or online stores, and only in the 48 contiguous United States), the sales representative should have asked me if I wanted to opt-in to the recycling program. Unfortunately, my sales rep never mentioned recycling, asking me only if I wanted the receipt e-mailed instead of printed. (I said yes and verified my e-mail address.)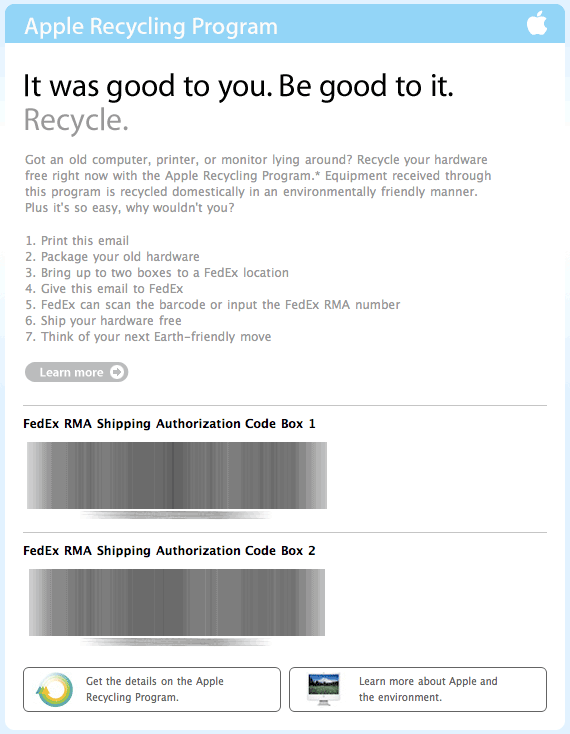 At this point, I thought perhaps I'd missed out on the program…but just about then, I received an e-mail from Apple headlined "It was good to you. Be good to it. Recycle." As seen in the image at right (click for the full-size version), this e-mail explained how I could participate in the recycling program, and included two FedEx numbers to ship (up to) two boxes back to Apple at their expense.
On the program's FAQ page, I discovered that I can ship up to 70 pounds in each box, and I can send back one computer, one monitor, and peripherals (which Apple defines as "cables, mice, keyboards, computer speakers, printers, scanners, floppy drives, optical media, external hard drives").
So even though I didn't get the chance to opt-in to the recycling program, it seems that my decision to have the receipt e-mailed to me also put me on the "send recycling info" list. (If I hadn't received the recycling e-mail, I could have used this page to request it.) While I think Apple could do a better job of publicizing its recycling program—a Read Me file on the hard drive seems the easiest and most environmentally-sensible solution—it turns out that it is a fairly good recycling program for purchasers of new Macs.
After reading about Apple's program, I was curious how it compared to that of Dell or HP. Dell will recycle Dell products for free at any time. (Apple has a free program for iPods and any manufacturer's cell phones, but not for Macs or other Apple-branded equipment.) When you configure a new Dell, you can choose to recycle your old gear—one CPU and one monitor from any manufacturer, but no peripherals. However, you must opt-in to the recycling program by adding it as a "feature" to the machine you're building—and Dell even tries to 'upsell' the recycling option, promoting a $6 "Recycling kit and plant a tree for me" choice as Dell Recommended. I'm not sure how successful Dell is with this program—I really had to look to find it in the system configuration area. (It's on the Protect my Investment tab, which you can reach after configuring your hardware and clicking Buy.)
HP offers free recycling for one computer and one monitor with the purchase of a new HP laptop, desktop, or LCD screen. When you configure a new HP computer, there's a prominent recycle link directly on the first configuration screen that explains the process. In addition, HP has a number of other ways to recycle, including a reuse program with the National Cristina Foundation.
So how does Apple stack up to Dell and HP? Apple's the only one of the three that also accepts peripherals in its free recycling program, and I think that's a big plus. On the other hand, Apple doesn't do much to promote its program—my sales rep never mentioned it to me, and there's no discussion of it on the machine itself, and only the barest mention in the product literature. HP seems to have the largest environmental focus of the three, with a number of recycling options (not all of which are free) covered on their web site. Dell's free recycling of any Dell-branded hardware at any time is admirable, and a feature that I would like to see copied by the other two.
Overall, though, it seems that there's progress being made, and there are now even fewer reasons to trash your old hardware. Ideally, you can find a local agency to put your old machine to use, but if you can't, at least you now have recycling options when it comes time to upgrade to the newest Mac.