Although Adobe Premiere Pro CS4 will be the fourth incarnation of Adobe's professional video editing software, it's only the second version compatible with the Mac OS. Its debut on the Mac was a laudable, though for many, overdue. By now, Premiere Pro has had time to shed associations with its last Mac-compatible predecessor, Premiere 6.5, and establish a fresh reputation with Mac users. The latest version includes features that should further strengthen its credibility on the Mac platform.
Here's what to expect from Premiere Pro CS4 when it ships next month, both as a $799 standalone product and as a part of the $1,699 Production Premium suite along with the latest versions of After Effects and Soundbooth.
More tools for Mac users
A few of the most notable new features aren't part of Premiere Pro CS4 itself, but come in the form of companion programs. With CS4, Adobe eliminates the most conspicuous disparity between the Windows and Mac versions of the Creative Suite by including a Mac-compatible version of Adobe OnLocation. OnLocation CS4 lets you use a laptop to monitor, capture, and log video in the field. Prior to CS4, Mac users could only run the program via Boot Camp. Premiere Pro CS4 also ships with Adobe Media Encoder CS4, a separate but integrated program that can batch encode any combination of Premiere Pro sequences and other files to multiple formats. In the past, you could export just one sequence to a single format at a time.
Of course, Premiere Pro CS4 also boasts numerous new features of its own. A new Media Browser panel lets you preview and import footage on your computer from within the Premiere Pro interface—which is particularly useful when importing material from tapeless media. Premiere Pro CS4 expands its support of tapeless media to include P2, AVCHD, XDCAM EX, and XDCAM HD. And Premiere Pro CS4 not only supports the media, but its metadata, as well. This way, shot information encoded in the field is present in Premiere Pro, making it easy organize and search the footage without intermediate steps.
Search speech
In fact, more extensive support for metadata is a prominent feature in Premiere Pro. A new Metadata panel lets you view and input information about a clip or even its source file. But perhaps the most exciting implementation of metadata is Premiere Pro CS4's speech transcription feature. It analyzes a clip's audio and creates a text transcript that's timecode-specific and searchable by keyword. Needless to say, it promises to be a real boon, especially to editors who have many hours of documentary footage.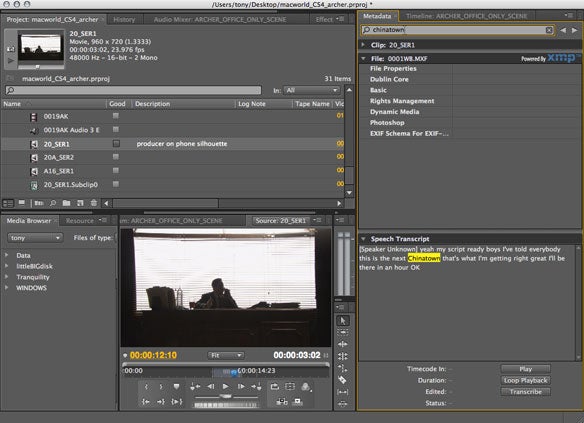 Adobe also enhances some of Premiere Pro's core editing features. Most notably, Premiere Pro CS4 revamps the way you target tracks and shift material when performing insert edits. And in contrast to previous versions, you can apply speed changes, transitions, and effects to multiple clips at once. Another much anticipated feature is the ability to composite clips using blending modes (and to retain blending modes when importing a file from Photoshop). Other new features include an enhanced view of audio in the Source monitor, better timecode display options, more assignable keyboard shortcuts, and the ability to replace clip yet retain its effects and other settings.
First impressions
When Adobe unveiled Premiere Pro CS3 in 2007, the company—and the app—had the burden of making a positive first impression on Mac users. But that version of the video-editing program also had the advantage of making a dramatic return to the Mac.
We'll see whether Premiere Pro CS4 can continue to attract attention—and new users—when it ships in late October.
[Antony Bolante hosts Lynda.com's Premiere Pro CS4 Essential Training, and is co-producing a documentary entitled, on the nOse.]
Updated at 9:04 a.m. to correct the last version of Premiere prior to CS3.