One small step for the App Store, one giant le—er, actually just that small step. With myriad concerns about the App Store surfacing, Apple has decided to actually make some changes. Well, a change, anyway.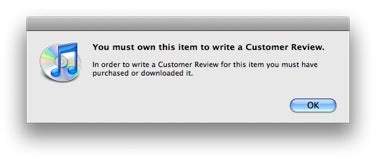 Over the weekend, Apple updated the requirements for customers to review applications. In order to write a scathing one-star critique of an application, you're required to have purchased it—or, in the case of a free application, downloaded it. You'll be prompted to log into your iTunes account before writing a review, and if it's not one that you've downloaded, you'll be greeted with that pleasant little reminder above.
That's kind of a no-brainer, when you think about it: if you're going to review an application, it only makes sense that you've used it, right? Hopefully, this will do something to prevent the onslaught of bad reviews based only on an application's description.
While the change should assuage some of developers' complaints, it's still a bit like fluffing pillows on the Titanic. Maybe Apple is just working through their App Store To-Do list very slowly. Might we suggest, oh, about fifty million different apps that might help you get on with that?