We brought you news last week that the iPhone 3G had made its way to Latvia and Lithuania, but those weren't the only countries of Apple's targeted 70 to pick up the iPhone last week; turns out that a few other countries are offering the device for sale now as well: namely Brazil, South Africa, and Turkey.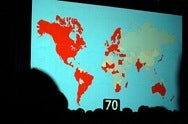 In Brazil, Apple's made deals with a pair of carriers, Vivo and Claro (a subsidiary of America Movil); in Turkey, as we've discussed before, the iPhone will be distributed by Vodafone and Turkcell; and in South Africa, it's the provence of Vodacom.
All of the countries have their own special deals, of course. In South Africa, Vodacom is offering a host of different deals for the iPhone, depending on whether you want a monthly contract or a prepaid deal. Turkey's deals through Vodafone and Turkcell also offer a number of different rates; and Brazilian users have plenty of options to choose from their two providers.
That leaves twenty-four countries on Apple's to-do list, though we know Russia is coming at the end of this week. As long as they hit all those countries by the end of the year, they'll make that 70 mark, no problem.