USBFever has announced a new auto mount for iPhone and iPhone 3G models. Priced at $39.99, it's expected to ship on or before October 10, 2008.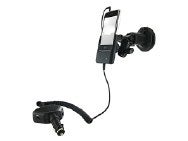 The mount connects to your automobile's windshield using a suction cup, and enables you to see the screen of your iPhone. It also includes an AC power adapter that connects your iPhone to your vehicle's cigarette lighter or 12 volt power outlet, to recharge the battery.
The device also allows you to operate the iPhone without using your hands, so you don't have to hold the iPhone up to your ear while you're talking to another party.